Fiji will make their Rugby World Cup debut against England
They qualified for their first Rugby World Cup by beating Samoa 41-13 at the Oceania Rugby Women's Championship 2019
Fiji are the 23rd team to play in a women's Rugby World Cup
Fiji have not played any of their Pool C opponents before. Coming into RWC 2021 they had only faced Australia, Canada, Hong Kong, Japan, Papua New Guinea, Samoa and Tonga in test matches
Prop Siteri Rasolea will make her test debut for Fiji
Second-row Asinate Serevi is the daughter of Fijian sevens maestro Waisale Serevi, who himself played in three Rugby World Cups in 1991, 1999 and 2003
Lavena Cavuru, Sesenieli Donu, Alowesi Nakoci and Raijieli Daveua were all part of the Fijiana side that finished fifth at Rugby World Cup Sevens in South Africa last month
Vitalina Naikore has scored four tries in her six tests in 2022, including a hat-trick against Tonga. The winger also scored a hat-trick in the RWC 2021 warm-up match against the Wahine Maori
This will be the first time England and Fiji meet
Sarah Hunter captains the side from number eight and together with centre Emily Scarratt will play in their fourth Rugby World Cup
Nine players in the starting line-up were part of the Red Roses squad that reached the final at RWC 2017 in Vickii Cornborough, Amy Cokayne, Sarah Bern, Abbie Ward, Matthews, Hunter, Leanne Infante, Scarratt and Thompson
Hunter, Scarratt, flanker Alex Matthews and winger Lydia Thompson are all Rugby World Cup winners, having helped England to victory at France 2014
Abby Dow is named on the bench and could make her first appearance since suffering a broken leg against Wales in the Women's Six Nations in April
Fiji (1-15): Iris Verebalavu, Vika Matarugu, Siteri Rasolea, Asinate Serevi, Sereima Leweniqila (captain), Sulita Waisega, Ema Adivitaloga, Karalaini Naisewa, Lavena Cavuru, Merewalesi Rokouono, Vitalina Naikore, Sesenieli Donu, Rajieli Laqeretabua, Alowesi Nakoci, Roela Radiniyavuni
Replacements (16-23): Bitila Tawake, Bulou Vasuturaga, Mereoni Namositava, Merevesi Ofakimalino, Raijieli Daveua, Akosita Ravato, Ana Maria Roqica, Melaia Matanatabu
England (1-15): 1. Vickii Cornborough,2. Amy Cokayne,3. Sarah Bern,4. Zoe Aldcroft,5. Abbie Ward,6. Alex Matthews,7. Sadia Kabeya,8. Sarah Hunter (captain),9. Leanne Infante,10. Zoe Harrison,11. Claudia MacDonald,12. Helena Rowland,13. Emily Scarratt,14. Lydia Thompson,15. Ellie Kildunne
Replacements (16-23): 16. Connie Powell,17. Hannah Botterman,18. Maud Muir,19. Cath O'Donnell,20. Poppy Cleall,21. Lucy Packer,22. Holly Aitchison,23. Abby Dow
Australia v New Zealand
This is the fourth meeting between Australia and New Zealand this year with the Black Ferns winning all three (23-10, 52-5 and 22-14
Centre Sharni Williams will play her first test for the Wallaroos since Rugby World Cup 2017
Williams has already enjoyed a remarkable year with the Australian sevens teams, winning the World Rugby Sevens Series 2022 title, Commonwealth Games gold in July and Rugby World Cup Sevens gold in September
Williams and captain Shannon Parry are playing in their fourth Rugby World Cup having made their debuts back at RWC 2010. They co-captained Australia to sevens Olympic gold at Rio 2016
Parry, Williams, Grace Hamilton, Liz Patu, Emily Robinson and Trilleen Pomare all played at RWC 2017 with the latter making her Wallaroos debut during the tournament
It will be a third Rugby World Cup for scrum-half Iliseva Batibasaga but her first since England 2010
Liz Patu, Australia's most-capped player, will play her 30th test for the Wallaroos
There are seven players in the starting line-up who made their test debuts in 2022 (Adiana Talakai, Bridie O'Gorman, Sera Naiqama, Ivania Wong, Georgina Friedrichs, Bienne Terita, Pauline Piliae-Rasabale)
This is the fourth time that New Zealand will face Australia in 2022 with the Black Ferns having won all three so far to maintain their perfect record against the Wallaroos
Black Ferns Sevens captain Sarah Hirini will play her first test for New Zealand since the RWC 2017 final in Ireland
Hirini, Portia Woodman and Stacey Fluhler won the silver medal at Rugby World Cup Sevens 2022 in South Africa last month
The starting line-up features four of New Zealand Tokyo 2020 Olympic gold medallists in flanker Hirini, centre Fluhler and wingers Woodman and Ruby Tui
Centre Amy du Plessis will start at inside centre for the first time
Six RWC 2017 winners are named in the squad in flanker Charmaine McMenamin, Hirini, scrum-half Kendra Cocksedge, Woodman, Fluhler and replacement Hazel Tubic
The remaining 17 players in the match-day squad will all be making their Rugby World Cup debuts against Australia
Australia: 1. Liz Patu,2. Adiana Talakai,3. Bridie O'Gorman,4. Sera Naiqama,5. Atasi Lafai,6. Emily Chancellor,7. Shannon Parry (captain),8. Grace Hamilton,9. Iliseva Batibasaga,10. Arabella McKenzie,11. Ivania Wong,12. Sharni Williams,13. Georgina Friedrichs,14. Bienne Terita,15. Pauline Piliae-Rasabale.
Replacements: 16. Ashley Marsters,17. Emily Robinson,18. Eva Karpani,19. Michaela Leonard,20. Grace Kemp,21. Layne Morgan,22. Trilleen Pomare,23. Lori Cramer
New Zealand: 1. Phillipa Love,2. Luka Connor,3. Amy Rule,4. Joanah Ngan-Woo,5. Chelsea Bremner,6. Charmaine McMenamin,7. Sarah Hirini,8. Liana Mikaele-Tu'u,9. Kendra Cocksedge,10. Ruahei Demant (captain),11. Portia Woodman,12. Amy du Plessis,13. Stacey Fluhler,14. Ruby Tui,15. Renee Holmes.
Replacements: 16. Georgia Ponsonby,17. Awhina Tangen-Wainohu,18. Santo Taumata,19. Maiakawanakaulani Roos,20. Kendra Reynolds,21. Arihiana Marino-Tauhinu,22. Hazel Tubic,23. Sylvia Brunt.
SUNDAY, 9 OCTOBER
USA v Italy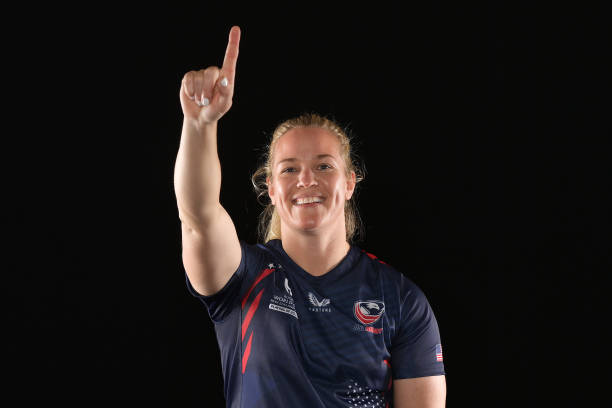 Kristine Sommer comes onto the bench after Evi Ashenbrucker was ruled out through injury
Winners of the inaugural Rugby World Cup in 1991, USA will begin their 2021 campaign against Italy – just as they did at the previous tournament in Ireland in 2017
The sides currently sit sixth and fifth respectively in the World Rugby Women's Rankings powered by Capgemini, Italy having climbed above USA after beating France 26-19 in their final warm-up match
USA are looking to end a three-game Rugby World Cup losing streak, their longest run of defeats. Their last RWC victory came against Spain in Dublin in the pool phase in 2017
Five members of the starting line-up were part of USA's squad at RWC 2017 in props Hope Rogers and Nick James, flanker Jordan Matyas, number eight Kate Zachary and full-back Alev Kelter
Rogers will contest her third Rugby World Cup, after playing in 2014 in France and 2017 in Ireland
Jordan Matyas and Alev Kelter both played for USA sevens team at the Tokyo 2020 Olympic Games
Italy will begin their Rugby World Cup 2021 campaign against USA, just like they did at the previous tournament in Ireland
Five members of the starting line-up for this weekend also started that encounter with the Women's Eagles in Melissa Bettoni, Elisa Giordano, Maria Magatti, Sofia Stefan, Michela Sillari
Eleven of the starting line-up played at Rugby World Cup 2017 with the exceptions being prop Silvia Turani, flanker Giordana Duca, flanker Gaida Franco and full-back Vittoria Ostuni Minuzzi
Scrum-half Sofia Stefan – who played at centre against USA in 2017 – will play her 70th test for the Azzurre
The sides currently sit fifth and sixth in the World Rugby Women's Rankings powered by Capgemini, Italy having climbed above USA after beating France 26-19 in their final warm-up match to equal their highest ever ranking of fifth
USA: 1. Hope Rogers,2. Joanna Kitlinski,3. Nick James,4. Hallie Taufoou,5. Jenny Kronish,6. Jordan Matyas,7. Rachel Johnson,8. Kate Zackary (captain),9. Carly Waters,10. Gabriella Cantorna,11. Lotte Clapp,12. Katana Howard,13. Eti Haungatau,14. Jennine Detiveaux,15. Alev Kelter.
Replacements: 16. Kathryn Treder,17. Catherine Benson,18. Charli Jacoby,19. Kristine Sommer,20. Georgie Perris-Redding,21. Olivia Ortiz,22. Meya Bizer,23. Tess Feury
Italy: 1. Silvia Turani,2. Melissa Bettoni,3. Lucia Gai,4. Valeria Fedrighi,5. Giordana Duca,6. Ilaria Arrighetti,7. Giada Franco,8. Elisa Giordano (captain),9. Sofia Stefan,10. Veronica Madia,11. Maria Magatti,12. Beatrice Rigoni,13. Michela Sillari,14. Aura Muzzo,15. Vittoria Ostuni Minuzzi.
Replacements: 16. Vittoria Vecchini,17. Gaia Mari,18. Sara Seye,19. Sara Tounesi,20. Isabella Locatelli,21. Francesca Sgorbini,22. Sara Barattin,23. Alyssa D'Incà
Japan v Canada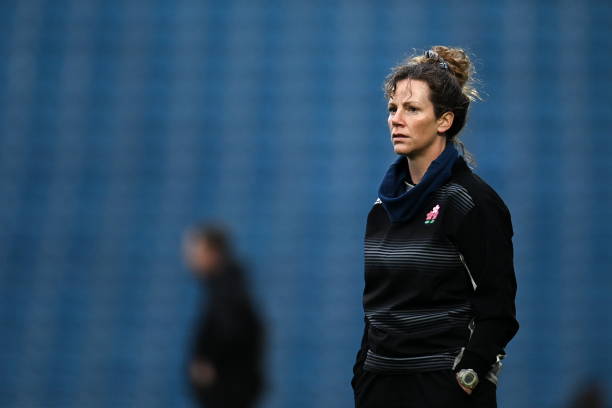 Japan have only won one pool match in Rugby World Cup history, 10-5 against Sweden in the 1994 tournament in Scotland
This will be second meeting between the two sides and the first since RWC 1994 when Canada ran out 57-0 winners in Melrose
Japan are bidding to win back-to-back RWC matches for the first time, having ended the 2017 tournament with a 44-5 victory over Asian rivals Hong Kong
Only captain Saki Minami and second-row Maki Takano in the match-day squad have scored a Rugby World Cup try
The Sakura Fifteen have won four of their seven tests in 2022, including historic victories over Australia, South Africa and Ireland
Nineteen of the match-day 23 were involved in Japan's last outing, a 95-12 defeat by New Zealand at Eden Park on 24 September
Lesley McKenzie is the only female head coach at Rugby World Cup 2021. The former Canadian international played in two Rugby World Cups herself, in 2006 and 2010
Four players in the starting line-up played at Rugby World Cup 2017 in Saki Minami, Maki Takano, Seina Saito and Iroha Nagata, the latter as a centre before converting to the back row
Sophie de Goede will captain Canada at her first Rugby World Cup. She follows in her parents' footsteps as her mother Stephanie White was the first Canadian women's captain in 1987 and led them in two matches at the first women's Rugby World Cup, while her father, Hans de Goede, played 13 years for Canada and captained them at the inaugural Rugby World Cup 1987
Canada will become the first nation to play 40 matches in women's Rugby World Cup history. They are one of only four teams to play in every women's tournament, along with England, France and the USA.
Their first match of RWC 2021 will also be Canada's 150th women's test match
Seven players in the starting line-up played at Rugby World Cup 2017 in Brittany Kassil, DaLeaka Menin, Tyson Beukeboom, Karen Paquin, Brianna Miller, Alex Tessier and Elissa Alarie
The experienced trio of second-row Tyson Beukeboom, flanker Karen Paquin and full-back Elissa Alarie will play in their third Rugby World Cup, having also been part of the Canada squad that finished runners-up to France in 2014
Japan: 1. Saki Minami (captain),2. Nijiho Nagata,3. Sachiko Kato,4. Yuna Sato,5. Maki Takano,6. Seina Saito,7. Iroha Nagata,8. Ayano Nagai,9. Megumi Abe,10. Ayasa Otsuka,11. Komachi Imakugi,12. Shione Nakayama,13. Mana Furuta,14. Hinano Nagura,15. Rinka Matsuda.
Replacements: 16. Hinata Komaki,17. Misaki Suzuki,18. Makoto Lavemai,19. Kie Tamai,20. Otoka Yoshimura,21. Moe Tsukui,22. Minori Yamamoto,23. Kyoko Hosokawa
Canada: 1. Brittany Kassil,2. Emily Tuttosi,3. DaLeaka Menin,4. Courtney Holtkamp,5. Tyson Beukeboom,6. Fabiola Forteza,7. Karen Paquin,8. Sophie de Goede,9. Brianna Miller,10. Taylor Perry,11. Paige Farries,12. Alex Tessier,13. Sara Kaljuvee,14. Maddy Grant,15. Elissa Alarie.
Replacements: 16. Gilian Boag,17. Mikiela Nelson,18. Alexandria Ellis,19. Ngalula Fuamba,20. Emma Taylor,21. Gabrielle Senft,22. Justine Pelletier,23. Julia Schell
Wales v Scotland
Hannah Jones captains Wales for the third test in a row with Siwan Lillicrap named on the bench. Jones led Wales in their warm-up match defeats by Canada (31-3) and England (73-7)
Centre Megan Webb makes her first start for Wales since the February 2020 against France in the Women's Six Nations
Winger Jasmine Joyce celebrates her 27th birthday on game day against the team she made her debut against in 2017. She is yet to score a try against Scotland
Her fellow winger Lisa Neumann returns to the starting line-up after missing the two warm-up matches because of injury
Second-row Georgia Evans makes her first test start of the year, having only returned off the bench against Canada in August following a broken arm suffered in February
Eight of the starting line-up also started the Women's Six Nations victory over Scotland in April in Carys Phillips, Natalia John, Alisha Butchers, Alex Callender, Elinor Snowsill, Jasmine Joyce, Hannah Jones and Lisa Neumann
Ffion Lewis came off the bench to score the winning try in the 76th minute but earns a starting berth against Scotland this weekend
Twelve players in the match-day squad – six of them in the starting line-up – played at Rugby World Cup 2017 (Carys Phillips, Alisha Butchers, Sioned Harries, Elinor Snowsill, Hannah Jones, Jasmine Joyce, Kelsey Jones, Caryl Thomas, Cerys Hale, Siwan Lillicrap, Keira Bevan and Robyn Wilkins)
No forward scored more tries than number eight Sioned Harries (four) at Rugby World Cup 2017. She scored against New Zealand, Ireland and Hong Kong
Number eight Sioned Harries, fly-half Elinor Snowsill and replacement prop Caryl Thomas are playing in their fourth Rugby World Cup
This is Scotland's first Rugby World Cup match for 12 years – their first since a 32-8 loss to Ireland in the seventh-place play-off at England 2010
Scotland were the 12th and final team to secure their place in New Zealand after beating Colombia 59-3 in the Final Qualification Tournament in Dubai in February
Every player in the squad will make the Rugby World Cup debut against Wales in Whangārei
Ten players in the starting line-up also started the 24-19 loss to Wales in the Women's Six Nations in April
Scotland's last outing was a 21-17 loss to USA in Edinburgh in August and 13 of the starting line-up retain their place from that match
Eight of the match-day squad played for Scotland sevens at the Commonwealth Games, with Megan Gaffney, Rhona Lloyd, Shona Campbell, Caity Mattinson, Chloe Rollie, Eilidh Sinclair, Meryl Smith and Lisa Thomson playing in Coventry in July
Winger Rhona Lloyd will play her 40th test for Scotland against the side she crossed for two tries against in the Women's Six Nations
Full-back Chloe Rollie has scored three tries in her past four tests against Wales
Wales: 1. Cara Hope,2. Carys Phillips,3. Donna Rose,4. Natalia John,5. Georgia Evans,6. Alisha Butchers,7. Alex Callender,8. Sioned Harries,9. Ffion Lewis,10. Elinor Snowsill,11. Lisa Neumann,12. Hannah Jones (captain),13. Megan Webb,14. Jasmine Joyce,15. Kayleigh Powell.
Replacements: 16. Kelsey Jones,17. Caryl Thomas,18. Cerys Hale,19. Siwan Lillicrap,20. Beth Lewis,21. Keira Bevan,22. Robyn Wilkins,23. Lowri Norkett
Scotland: 1. Molly Wright,2. Lana Skeldon,3. Christine Belisle,4. Emma Wassell,5. Sarah Bonar,6. Rachel Malcolm (captain),7. Louise McMillan,8. Jade Konkel-Roberts,9. Caity Mattinson,10. Helen Nelson,11. Megan Gaffney,12. Lisa Thomson,13. Hannah Smith,14. Rhona Lloyd,15. Chloe Rollie.
Replacements: 16. Jodie Rettie,17. Leah Bartlett,18. Elliann Clarke,19. Lyndsay O'Donnell,20. Eilidh Sinclair,21. Mairi McDonald,22. Meryl Smith,23. Shona Campbell