Details Of The New Autumn Nations Cup Revealed
Details of the 2020 Autumn Nations Cup, as well as the fixtures for the remainder of the 2020 Test Window, have been confirmed.
England will play four matches, including three Quilter Internationals, as part of a new Autumn Nations Cup. Taking place over four weekends between 13 November and 6 December 2020, the Autumn Nations Cup will be a unique eight-team competition involving the Six Nations countries, as well as Georgia and Fiji in two pools of four.
The format for the Autumn Nations Cup will be two pools of four – Group A will include England, Ireland, Wales and Georgia with Group B comprising of France, Scotland, Italy and Fiji.
The action gets underway over the weekend of 13th/14th/15th November kicking off with the mouth-watering clash of Ireland and Wales at The Aviva Stadium on the Friday. This will be followed on Saturday by England V Georgia and Italy V Scotland, while on Sunday France will entertain Fiji.
Eddie Jones and his squad kick off their Autumn Nations Cup campaign with a Quilter International against Georgia on 14 November (KO 15:00 GMT). This is only the third time the two sides will have faced each other in an international fixture and the first time outside a world cup, having previously met in the 2003 and 2011 tournaments. England won both previous encounters.
On 21 November, England take on Ireland at Twickenham Stadium (KO 15.00 GMT) for the second time in 2020; this match is the second Quilter International in Group A. Prior to the men's match, England women will play their second of two autumn internationals against France (KO 12.00 GMT) making it a double header at Twickenham.
The Autumn Nations Cup will conclude on the weekend of the 5th and 6th December with a special final round of matches. Based on the pool rankings coming into the final weekend, each team will face off against the team ranked in their same position in the opposite pool, a format which promises some intriguing and unexpected clashes e.g. 1st place Group A v 1st place Group B, 2nd place Group A v 2nd place Group B.
QUILTER CUP 2020
Sunday 25 October 2020: England v Barbarians, KO 14:00 GMT, Twickenham Stadium
GUINNESS SIX NATIONS 2020
Saturday 24 October 2020: Ireland V Italy – Time TBC – Aviva Stadium
Saturday 31 October 2020: Wales v Scotland KO 15:15 GMT, TBC
Saturday 31 October 2020: Italy v England KO 16:45 GMT, Stadio Olimpico, Rome
Saturday 31 October 2020: France v Ireland KO 21:00 GMT, Stade de France, Paris
AUTUMN NATIONS CUP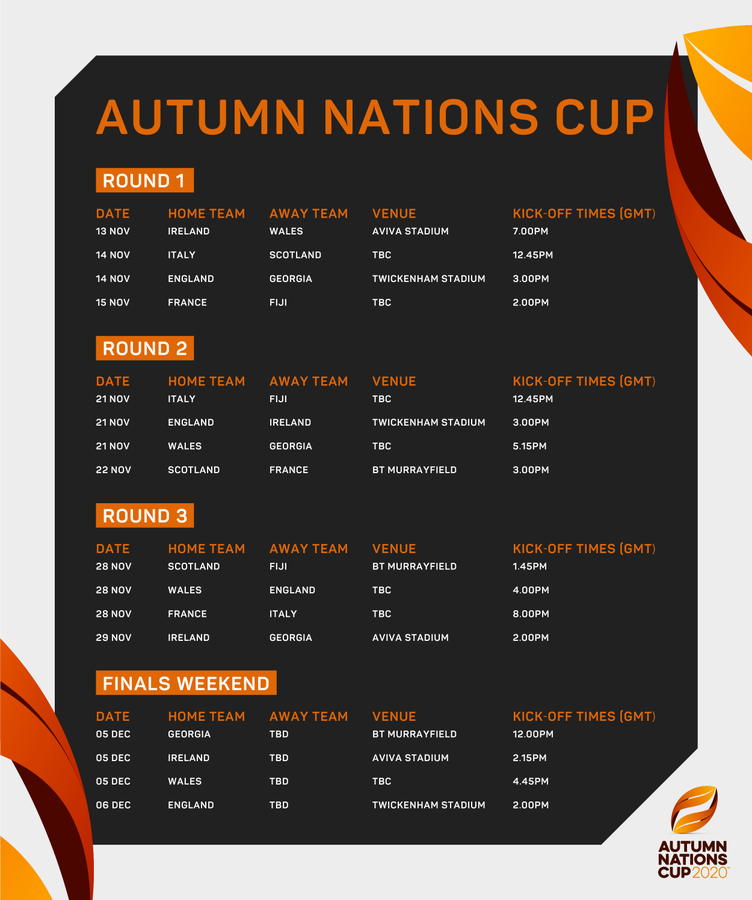 *All times are UK Times