The Incredible List Of Talented Players Whose Top 14 Contracts Are Expiring At The End Of The Season
The Top 14 is currently on pause and as it stands a number of players will not be afforded the time to prove they deserve a contract extension by the end of the season.
Bi-weekly rugby newspaper, Midi Olympique has released their list of players whose contracts are set to expire at the end of the current season.
Any of these players could pick up a contract extension before the end of the season or have already been linked with a move away from the club.
We take a look at some of the biggest names on the list:



Alex Dunbar - Brive
Dunbar joined Brive on a one-year deal from Glasgow Warriors following a loan spell with Newcastle Falcons.
Capped 31 times for Scotland, he could quite easily find some suitors for a talented hard running centre.
Taylor Paris - Castres
A Candian International, Paris is another talented speedster who could fill in, in just about any club in Europe.
However, he is likely to find a spot in one of the MLR rosters for the 2021 season.
Jody Jenneker - Castres
A veteran of the Castres pack, Jenneker is all the nuts and bolts you want from your hooker. He throws well, scrummages even better and is agressive around te park. At 35, he may find his career at the level of French rugby over as Castres may look to add some youth into their ageing side.
Robert Ebersohn - Castres
Well known in South Africa for his excellent performances for the Cheetahs as an intelligent outside centre, Robert Ebersohn would be welcomed back to the Free State with the Cheetahs.
An astute defender and an eye for a gap, he won't be out of place in any side across Europe but is likely to remain in France or return home.
Clermont
Clermont are ready to release some extremely talent squad members at the end of the season in the likes of prop Loni Uhila, Greig Laidlaw, Remy Grosso, Isaia Toeava and Nick Abendanon.
Uhila won Super Rugby with Hurricanes before heading North and would an excellent signing for any side worldwide with the 31-year-olds excellent carrying, scrummaging and tackling a welcomed addition to any pack.
Laidlaw has been linked to multiple clubs in France and his future remains somewhat in the air but was is clear is that he will leave Clermont with the club president already confirming that they have signed his replacement.
A string of injuries for Grosso has lead to the winger confirming this will be his final season of professional rugby after failing to fully recover from his injury he picked up on tour to New Zealand in 2018.
Toeava has also been linked with numerous clubs in Europe with recent reports suggesting that he will sign for Toulouse after he was told that his contract at Clermont would not be extended.
Like Toeava and Laidlaw, Nick Abendanon has been told that he will not be offered an extension at the club. Reports suggest that the 33-year-old could return to the UK with Glasgow with other Premiership clubs also expressing some interest.
Kini Murimurivalu - La Rochelle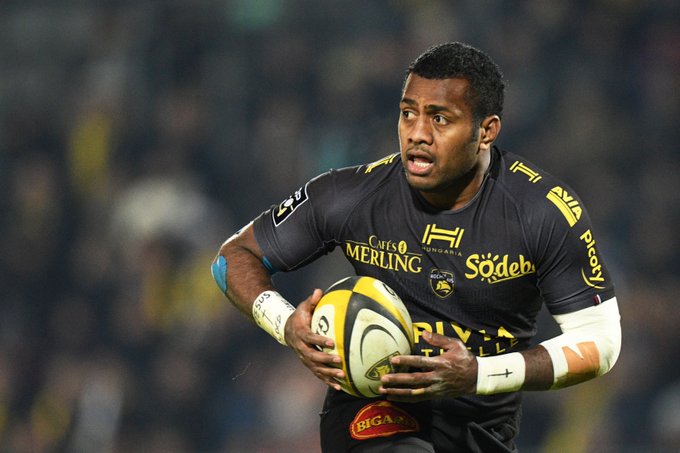 Fiji's first-choice fullback at the Rugby World Cup in Japan, Murimurivalu is a crowd-pleaser with an excellent running game.
He is also comfortable under the high ball and would be an excellent signing for any club looking for a cool head in the #15 jersey.
Kahn Fotuali'i - Montpellier
Known in the Premiership for his stints with the Saints and Bath, Fotuali'i was brought into Montpellier on a one-year contract.
The 37-year-old is likely to bring his career to an end at the end of the current season but wouldn't be short on offers if a club needs an experienced scrumhalf or some emergency cover in the position.
Francois Steyn - Montpellier
A two time Rugby World Cup winner with the Springboks Francois Steyn has played over 150 games for Montpellier and looks set to return to South Africa according to multiple reports from the Republic.
Whether he will retire upon returning home or continue playing for the Cheetahs is yet to be confirmed with the South African Rugby Union reportedly looking to convince the versatile back to extend his career.
Tolu Latu - Stade Francais
The Wallabies starting hooker at the Rugby World Cup, Latu signed a one-year deal with Stade Francais before the tournament in Japan kicked off.
Known for his aggression and scrummaging, it is unclear what the future holds for the 27-year-old but he won't short on offers as he heads into his prime.
Dominiko Waqaniburotu - Pau
Fiji's captain at the Rugby World Cup, Waqaniburotu is another player who won't be short on offers despite being 33.
An excellent blindside flanker, he could leave the side if they are to be relegated at the end of the season.
Ben Smith - Pau
Pau's superstar signing hasn't been able to help them avoid a possible drop to the lower leagues of French rugby.
Signing just a one-year deal with the TOP14 side, it is believed that Smith will head to Japan after the 2019/20 season.
Colin Slade - Pau
Slade has had some recent struggles with head injuries but has been excellent for the Top 14 strugglers when he has played. At 32, the two time World Cup winner would still offer plenty to any side looking for a veteran playmaker and as it stands, he will not be offered an extension at the club.
Ben Tameifuna - Racing 92
Big Ben returned to Paris overweight after the Rugby World Cup in Japan and could be on his way out of the club with his current contract expiring.
A powerful ball carrier and scrummager, Tameifuna would add plenty of weight and value to any side in Europe if they are willing to deal with the front rower's struggles with staying fit from time to time.
Ben Volavola - Racing 92
A talented playmaker, Ben Volavola moved to Racing 92 to cover the injured Pat Lambie back in 2018 and has stayed with the club since.
Although he hasn't been offered a contract as of yet, he may just remain at the club with Kurtley Beale coming in. Able to cover multiple positions, he would be a superb asset when Russel, in particular, is away on test duty.
Antoine Claasen - Racing 92
The rise of Jordan Joseph and Yoan Tanga may force the consistent Antonie Claasen out of the club.
The 35-year-old has continued to perform for the Parisian club and could well still find a top club to continue his career at if he wishes too.
Toulon
Like Clermont, Toulon have a number of top players whose contracts are coming to an end.
Springbok tighthead Marcel van der Merwe has fallen down the pecking order at Toulon but an excellent tighthead is always high up on any DoR wishlist.
Georgian legend Mamuka Gorgodze's contract is also expiring at the end of the season and would be welcomed at any club across the world.
Sergio Parisse is in the same boat as Gorgodze and has spoken about potentially retiring from all forms of the game while saying that he has just one season after the current one at most.
Another star in the Toulon pack whose contract is expiring is Liam Messam. Messam joined the side in 2018 and has featured across the back row. The former All Black and Chiefs' man could bring an end to his career at the age of 36.
Julian Savea could be on the look out for a new club with his contract also expiring. Despite not having the most successful stint in France, many DoRs would be keen to have the former All Black winger on their books. A stint in Japan or a return to Super Rugby is not out of the question for the winger.
Argentine winger/centre Ramiro Moyano is also set to leave Toulon with the powerful back having just made 4 appearances after joining the side on a one-year deal after the World Cup. A return to the Jaguares is likely while any European side would be lucky to have him.
Maks van Dyk - Toulouse
The South African tighthead is a regular in the Toulouse matchday 23 and played a big role in their successful 2018/19 season.
With a French passport now, van Dyk would be a handy signing for any of the TOP14 sides while he could still remain at the club.
Full list via Midi Olympique: