'I've just been curled up in a ball' – Springboks World Cup winner Nkosi speaks on disappearance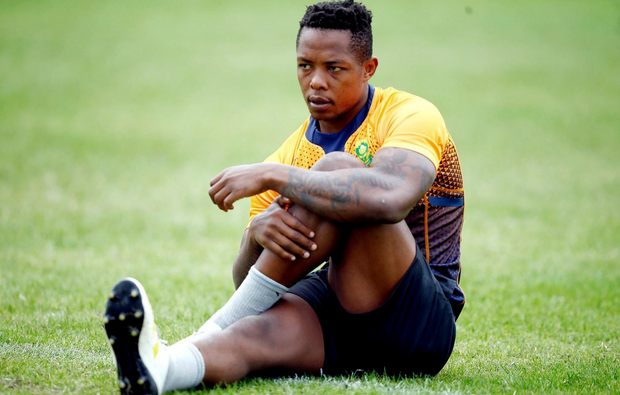 South Africa winger Sbu Nkosi says he has been "curled up in a ball" amid his disappearance, after the World Cup winner was found "safe and sound".
The Bulls, Nkosi's domestic team, confirmed the 26-year-old had been found after discovering his whereabouts on Monday, with the club having had no contact with the player since mid-November.
Nkosi, a member of the Springboks team that claimed victory at the 2019 Rugby World Cup, was not revealed to be missing publicly until his team confirmed they had filed a report over the weekend.
But now he has revealed he has been staying with family, disclosing he has taken time away to deal with mental health struggles.
"I'm a lot better," he told News24. "There's obviously a lot to speak about that I can't say out loud, but my condition is improving.
"It's just been a whole lot of mental pressure. It's been building up for a couple of years now.
"There's too much to go into: the expectations, the fact that by choosing to take care of myself right now, there are people I'm letting down, and that also hurts me.
"There's a lot, but I'm at a point where I need to prioritise the person before the rugby player right now. I just needed time. I've basically been curled up in a ball with my dad, and he's been managing my mental state daily.
Bulls CEO Edgar Rathbone revealed he met with Nkosi on Monday, and said the club would provide their full support to the winger over the coming period.
"We were thrilled to find Sbu and incredibly relieved to see that he was alive," he said in a statement. "Equally, we were saddened to see him in the state that he was in.
"I am however confident that we are in a good position to provide Sbu with the support he needs and that we should acknowledge his incredible courage to even say to us, that he is not okay.
"We are lucky today but tomorrow, our intervention may be too late and that is not something we want to see become a reality."