10 Great Sledges in Rugby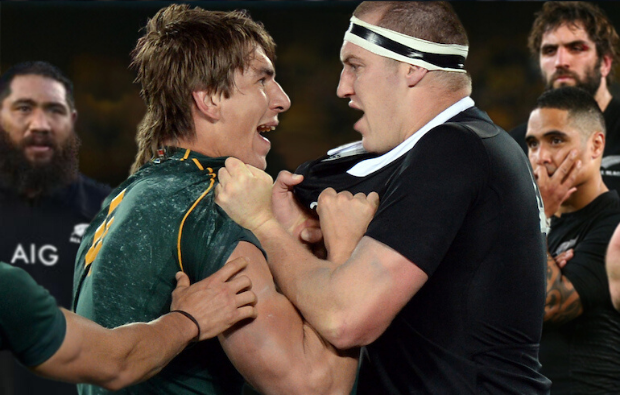 Fans and players love a good verbal joust on the pitch from time to time. While more common in the sphere of, say, cricket, a bit of sledging is no foreign concept on the rugby field. We take a look at 10 good chirps on record, in no particular order.
1. Spectator to Ollie le Roux
While the big, jovial Ollie Le Roux was cutting his teeth at Free State, the team headed out to Potchefstroom for a provincial encounter. During the game, a spectator took a look at the rotund loose-head and shouted, "Ollie le Roux, you look like a piggy bank!"
The jibe touched a nerve in le Roux whose response to the spectator, who was sitting amongst families, was bad enough for Free State coach Neillie to drop the youngster. After that, le Roux packed up his stuff and drove to Durban where he spent nine seasons with the Sharks.
2. Gordon Falcon to Ollie le Roux
When poor Ollie le Roux wasn't getting it from the crowd, he was copping it from the opposition. The year was 2000 and the Sharks were hosting a vibrant Brumbies side in Durban.
Le Roux, who was not short on pace, came charging up to take a crash ball into the Brumbies defensive line to which he would have done certain damage...had he not dropped the ball.
Gordon Falcon, the Brumbies' tough Kiwi number 8, sauntered over to le Roux and said: "Hey bro, you wouldn't have dropped it if it was a doughnut."
3. Bakkies Botha to Mike Phillips
In the midst of the heated exchanges of the second test of the 2009 Lions tour of South Africa, Lions scrumhalf Mike Phillips gave Bakkies Botha a tongue lashing after the latter knocked the ball from Philips' hands, foiling an almost certain scoring opportunity.
It is said that Phillips' berate involved the phrase 'steroid monkeys', but it was Botha's completely unexpected response that stopped Philips cold in his verbal tracks. Botha squared up to the scrumhalf, who expected a physical assault, and said: "Oh, you have sexy blue eyes."
"Fair play to him, I didn't have any comeback for that," Phillips said.
4. Austin Healey to Harry Ellis
Austin Healey is as famous for his mouth as for his playing ability. At Leicester Tigers, a young Harry Ellis had edged Healey out of the starting line-up and onto the bench – an eventuality Healey did not take particularly kindly to. Before Ellis was set to make his debut at Welford Road, Healey walked up to him in the changing rooms and asked him how he was feeling.
"I'm really, really nervous about it, mate," Ellis said, "Absolutely bricking myself!"
Healey replied: "Yeah, well you should be nervous, because you're f*cking shit!"
5. Goerge Gregan to Matt Dawson
During the 2001 Lions tour of Australia, Matt Dawson, who had originally been selected in the midweek side, finally forced his way into the test team. At the first opportunity, Wallaby scrumhalf George Gregan put a fork into his opponent: "Dawse, what are you doing here, mate? It's Saturday. You only play on Wednesdays."
6. Nigel Owens' gem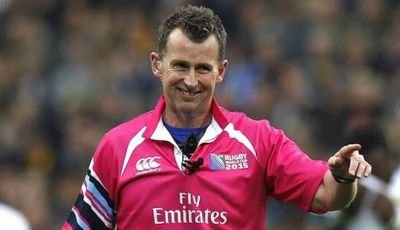 Welsh referee Nigel Owens is considered the best in his profession. He is also openly gay. While officiating in a game, the Harlequins hooker threw a terribly skew throw into a lineout, to which Owens responded:
"I'm straighter than that one."
7. Andy Gommersall to who?
In his Premiership debut, a young scrumhalf decided to give England international, Andy Gommersall a ribbing which ended up backfiring somewhat.
At the first scrum, you youngster said: "Don't hurt your back putting the ball in, old man."
Gomersall turned and regarded his opponent before retorting: "I would give you some abuse, but I have no idea who the f*ck you are!"
8. Eddie Jones to The Breakdown crew
Recently, on the popular New Zealand magazine show, The Breakdown, Eddie Jones was invited via Skype to be a guest. Former All Black fullback, Mills Muliaina, quizzed Jones on what he expected to see in Super Rugby Aotearoa. Jones' response was lethal:
"Just so many good young players, mate. I dunno how you do it there...nah, I do, 'cause you've got three of the best academies in the world; Fiji, Samoa and Tonga!"
9. Wing to hooker
Unfortunately, the identities of the two players involved in this one are not known. It is said that, while a hooker was standing on the touchline waiting for the ball to throw in to a lineout, the opposing winger brought the ball over to him but, instead of handing it to him, dropped it at his feet.
"You're a clever f*cker, aren't you?" said the hooker.
"Yeah, well," the winger responded, "You're short, fat, bald and your wife doesn't love you."
10. Joe Marler to Nic White
During a Premiership game, scrumhalf Nic White was taking his time preparing to execute a clearance kick. England loose-head Joe Marler, who was standing on the fringe of the ruck and lost his patience, shouting: "You're f*cking boring me! Hurry up!"