2021 Super Liga Americana de Rugby Match Reports
The 2021 Súper Liga Americana de Rugby season got under way on Tuesday, with Peñarol outclassing Olímpia Lions in the opening match.
The Uruguayan franchise defeated their Paraguayan counterparts 40-11 at the Estadio de La Pintana in Santiago.
Juan González scored the season's first try. The Paraguayan international fooled the defense to touch down in the second minute. It gave the Olímpia Lions a dream start. The try involved sharp work from scrum-half Ignacio Inchauspe. The conversion attempt was unsuccessful.
The Olímpia Lions remained in front for the duration of the opening quarter. Peñarol went ahead and then took control.
The remaining first-half points also went the way of Peñarol. Roger slotted two further penalties and Uruguayan test hooker Guillermo Pujadas scored on the stroke of half-time. Peñarol again utilized a rolling-maul to launch their try. Roger's conversion made it a 23-11 scoreline. Full match report via americasrugbynews
The second clash saw Matías Garafulic power Selknam to victory over Los Cafeteros this evening. The Chilean winger scored an incredible four tries inside the opening three quarters. His success spoiled the franchise debut of Cafeteros Pro from Colombia who ultimately fell 35-12.
The second half scoring began like the first; Matías Garafulic scored. The winger completed his magnificent performance with an individual piece of magic. He kicked and chased, beating the defense to score. The conversion attempt was wide. Full report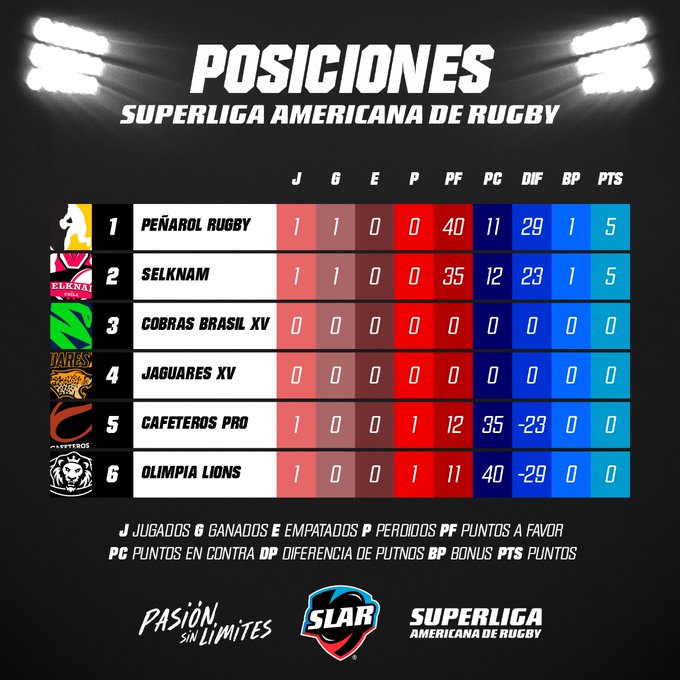 #TryESPNDeLaFecha | Uno que se está llevando todos los premios es Garafulic...💥

Lo que pasa es que aparte de hacer 4️⃣ tries 😮, el tercero de @SelknamRugby fue un GRAN TRY 👏🏼

Y por eso se lleva el Try @espn @ScrumESPN de la fecha 🎖️ presentado por Espn 🔝#PasiónSinLímites pic.twitter.com/fIviUJkpjj

— SUPERLIGA AMERICANA DE RUGBY (@SLARugby) March 18, 2021
The third match between Jaguares XV and Cobras Brasil XV was rescheduled.