Aaron Smith and Beauden Barrett Confirm Move to Japan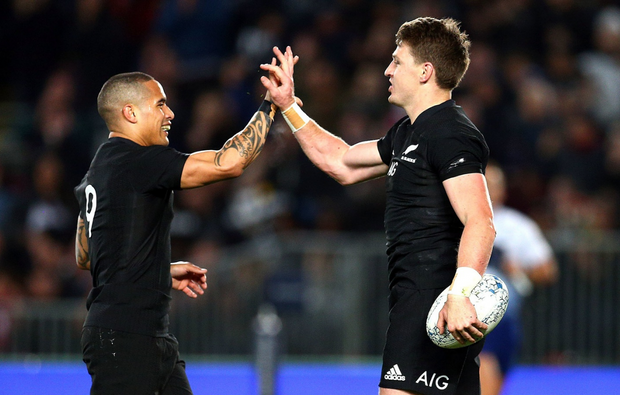 All Blacks Test centurions Aaron Smith and Beauden Barrett have announced they will spend time playing in Japan from 2024.
Both players have signed with the Toyota club with Smith committed to a long-term contract that will likely mean 2023 will be his last season in New Zealand.
New Zealand Rugby (NZR) is continuing to work with Barrett about a potential return to New Zealand beyond 2024.
"I'm looking forward to taking up this opportunity with Toyota alongside a good friend and long-term team-mate in Aaron," said Barrett. "My agent Warren Alcock is in communication and negotiation with New Zealand Rugby, the Blues and Toyota about my future beyond the Japan One 2024 season. I want to give myself time to ensure I make the right decision and once I gain clarity on that I will be able to give an update on what my future looks like beyond 2024."
Smith and Barrett will play for the Highlanders and Blues respectively in Super Rugby Pacific this season and will be available for the All Blacks through to the end of the Rugby World Cup in France.
Both players have cemented their place in the top echelon of world rugby. The two most-capped backs in All Blacks history, Smith (114) and Barrett (112 – second equal with Dan Carter) are part of an exclusive group to have won Rugby World Cup and Super Rugby titles.
Smith was an integral part of the Highlanders' maiden Super Rugby title in 2015 and is the team's most-capped player (176), while Barrett won the title with the Hurricanes in 2016.
"From the time I signed my first professional contract in 2008 I've been living my dream. I have been blessed to represent my home with the Manawatū Turbos, who helped me chase my dream of being a Super Rugby player," Smith said. "I have to say a big thanks to the Highlanders for believing in me. I have done it all with that team and they have always been there for me. Thank you to every Highlanders player, staff member and fan. You have given me everything and more in the 13 years we have had together. Finally, thank you to the man in my corner Warren Alcock from Halo Sport."