All Black David Havili helps Tasman to season-opening win against Otago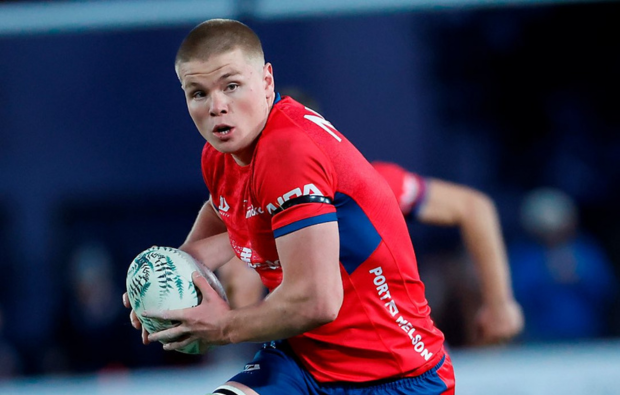 David Havili only needed five minutes to remind All Blacks selectors why his name should be included in the World Cup squad next week, as Tasman beat Otago in the opening fixture on the NPC.
Back on the park for the first time since he hurt his hamstring playing for the Crusaders on May 27, the silky-skilled midfielder played the first half of Tasman's 27-15 win against Otago in Nelson on Friday evening.
The 28-year-old's impact was almost immediate, too, as he uncorked a fend and dished a sweet offload to Anton Segner to put wing Macca Springer over five minutes into the opening match of this year's National Provincial Championship.
It was one of a bunch of timed and angled runs Havili made in a frantic opening 10 minutes of the match, as the All Blacks hopeful went hunting for work in his first game in more than two months.
With barely 10 minutes up on the clock, Havili had set up a try, turned a ball over at a ruck, and been penalised for creeping offside defensively.
Wing Kini Naholo's spectacular lunging finish inside the corner flag highlighted Taranaki's winning start to their campaign.
However, the fact he left park with an apparent shoulder injury a little later tempered the amber and blacks' 37-29 win against Counties Manukau in New Plymouth, one which would have been significantly more comfortable if Stephen Perofeta hadn't missed five kicks at goal.
Meanwhile, Taranaki also lost co-captain and No 8 Kaylum Boshier to injury in the second half, after the workhorse smashed over the line to bag two of his side's six tries on the night in the days second fixture vs Counties Manukau.
Having struggled to put points on the board during a disappointing 2022 campaign, the hosts scored a series of slick tries – none better than Naholo's 44th minute strike at Yarrow Stadium.
With Josh Gray draped all over him, he went airborne and somehow managed to reach out and plant the ball before he landed in touch.
New Highlanders signing Jacob Ratumaitavuki-Kneepkens also flashed on the opposite wing, while pivot Jayson Potroz was excellent running the cutter.
Armed with Chiefs wing Etene Nanai-Seturo, who scored one of his side's four tries, and Blues No 8 Hoskins Sotutu, Counties bagged a bonus point after Jimmy Tupou's consolation try a couple of minutes from time to secure a 37-29 victory.