Argentina name 46 man squad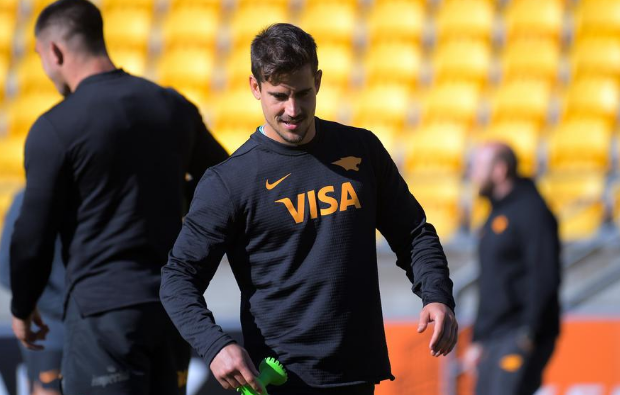 With no rugby having being played in Argentina since March the Los Pumas have put together a squad ahead of the Rugby Championship. The tournament will likely take place in New Zealand with all the sides playing the entire tournament there due to Covid-19 issues but with the country having reported new cases of the virus everything will be assessed on a daily basis.
There are a number of new faces in the squad and they are expected to call in a number of overseas based players in the future.
Los Pumas 46 Man Squad:
1. Mayco Vivas
2. Nahuel Tetaz Chaparro
3. Federico Wegrzyn
4. Julián Montoya
5. Santiago Socino
6. Ignacio Ruiz
7. Jose Luis Gonzalez
8. Joel Sclavi
9. Santiago Medrano
10. Lucio Sordoni
11. Juan Pablo Zeiss
12. Lucas Paulos
13. Ignacio Calas
14. Rodrigo Fernandez Criado
15. Marcelo Toledo Valentini
16. Lucas Bur
17. Rodrigo Bruni
18. Tomas Lezana
19. Javier Ortega Desio
20. Francisco Gorrisen
21. Santiago Grondona
22. Santiago Montagner
23. Juan Bautista Pedemonte
24. Juan Martin Gonzalez
25. Joaquin Oviedo
26. Tomas Cubelli
27. Felipe Ezcurra
28. Gonzalo Bertranou
29. Gonzalo Garcia
30. Domingo Miotti
31. Joaquin Diaz Bonilla
32. Tomas Albornoz
33. Jeronimo de la Fuente
34. Matías Moroni
35. Juan Cruz Mallia
36. Matias Orlando,
37. Juan Pablo Castro
38. Santiago Chocobares
39. Lucio Cinti
40. Emiliano Boffelli
41. Santiago Carreras
42. Bautista Delguy
43. Sebastian Cancelliere
44. Mateo Carreras
45. Joaquín Tuculet
46. Juan Bautista Daireaux