Clermont v Stade Francais headlines an exciting weekend of action in France
While all eyes will be on the Champions and Challenge Cup Finals this weekend, there is still plenty of action in France with six fixtures taking place in round five of the competition.
Toulouse and Brive kick off the weekend's action on Saturday while at the same time, Montpellier host Agen.
The weekend concludes on Sunday with two fixtures that sees Lyon host Bayonne before the main event of Stade Francais visiting the Stade Marcel Michelin to face Clermont.
The Standings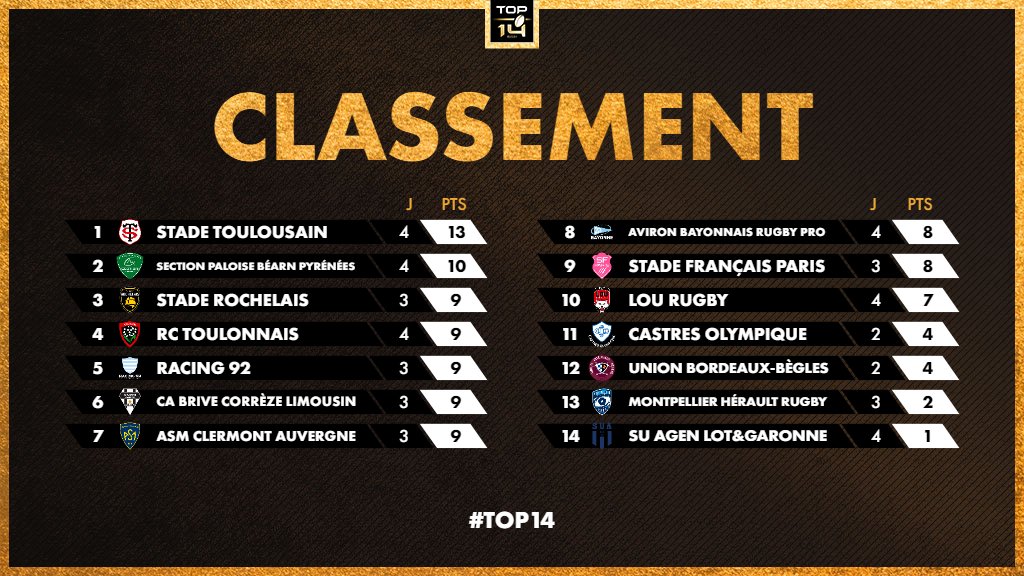 Brive vs Toulouse:
Fresh off a bye in Round 4, Brive find themselves with their hands full in the first fixture of Round 5 as they will have to contain a Toulouse outfit which has three consecutive victories under the belt.
Brive currently find themselves in 5th spot on the log while Toulouse occupy number 1. The general consensus is that Toulouse should take this one, although Brive do have the advantage of the game being played in the backyard. Their last game was against Pau, in Round 3, which they managed to win 19-13.
Toulouse, meanwhile, after a hiccup in Round 1 against Clermont – when they lost 33-30 after quite a dramatic comeback in the second half – have looked to be the form side in the Tournament at the moment and will take some beating with the momentum they have developed.
Interestingly, the last time they faced one another, Brive pulled off a decent win of 23-9 – in Round 6 of the 2019-2020 instalment of the competition – the memory of which they will no doubt call upon as they game draws nearer so as to fuel their belief.
La Rochelle vs Castres:
One of the picks of Round 5 sees La Rochelle hosting Castres at Stade Marcel-Deflandre. Castres will be looking to bounce back from their COVID enforce break while La Rochelle put down Bayonne 36-19 last weekend.
Castres' last encounter was in Round 2 against Stade Francais where they lost 22-16 after opening their campaign with a four-point victory over Agen in Round 1. While La Rochelle will be at a decent level of match-fitness, Castres will have to shake off any cobwebs in the joints after a long lay-off from game-time.
Round 10 of the 2019-20 was the last time these sides clashed with La Rochelle taking the honours 22-13 at the same venue.
All things considered, it is difficult to picture La Rochelle losing this one, although Castres' desperation to resume winning ways could propel them into form that the home side might find difficult to contend with.
Montpellier vs Agen:
The third fixture of Round 5 has Montpellier taking on Agen at the former's home ground. Both sides came out on the losing side in Round 4; Montpellier to Toulon and (25-21) while Agen suffered a more considerable loss to Stade Francais (20-3).
Montpellier, currently missing their star fly-half Handre Pollard, were kept on the back foot for most of the game by Toulon who applied constant pressure to their opponents. A tight first half saw the teams jog off for half-time with the scores at 6-3 in favour of Stade Francais. The latter rolled up their sleeves in the second half, however, adding 14 points to their total while Agen managed only a solitary penalty.
If the last fixture between these sides is anything to go by, Montpellier could be in for a trying time as they were defeated 29-10 by Agen in Round 4 of last year's competition. While it was a surprise victory, it was well-earned, and the memory of it will no doubt keep Montpellier on their toes.
Pau vs Bordeaux:
Pau's frustration after coming so close to beating Lyon in Round 4 will fuel their motivation for this weekend as they host Bordeaux at Stade du Hameau. Bordeaux, meanwhile, having enjoyed a bye in Round 4, faced Lyon in Round 3 and came off second best, 27-10.
Pau mounted a remarkable comeback in the final ten minutes which saw them shrink a 14-point deficit as they scored two tries to bring them level with Lyon at 29-all. If Pau can muster the same determination that they were able to in the latter stages of their game last week – and possibly kick it into gear sooner – Bordeaux may have their hands full on Saturday.
Pau are faring well so far in the competition, finding themselves in third spot on the overall standings while Bordeaux languish in the nether regions of the log in 12th spot. A close encounter ensued on the last occasion these two crossed swords, Bordeaux emerging victorious by four points, 27-23.
Bordeaux will want to get back to the highs that saw them top the log last season but will be facing a fired up Pau side.
Lyon vs Bayonne:
The penultimate game of the round sees Bayonne travelling to Matmut Stadium where they will attempt to put themselves back into winning ways when they tackle Lyon. Neither teams were victorious in the last round with Lyon drawing 29-all and Bayonne losing out to a powerful La Rochelle side 36-19.
Lyon will be kicking themselves with the same foot that they took of the gas against Pau when they squandered a 14-point lead, thus allowing Pau to draw level. No doubt the team's concentration (and possibly fitness) would have been a major talking point at practice this week.
While Bayonne were competitive in the first half last weekend, the second half (and ultimately the game) belonged to an uncompromising La Rochelle outfit. Both Lyon and Bayonne have some climbing to do, the former slotting in at 10th spot while the latter are just ahead of them in 9th.
Clermont vs Stade Francais:
Round 5 will conclude with a mouth-watering clash as Clermont host Stade Francais at Stade Marcel Michelin. The hosts are riding high after a solid 31-12 victory over Agen in Round 3 followed by a bye in Round 4 where Stade Fracais added to Agen's woes by putting them down 20-3.
Clermont currently occupy fourth spot on the log and are looking good shape – especially as regards their creative attacking play. Stade Francias (8th on the log) have notched up two victories from three outings – their only loss coming against Bayonne in Round 3. They will be hoping to break a small run of bad form against Clermont whom they lost to twice last season – 32-18 in Round 5 and 29-19 in Round 14.
With revenge in the minds of Stade Francais and the current exciting form of Clermont, this one is set to be a cracker.