Match Preview: Uruguay ready to get World Cup underway vs hosts
One of four teams that sat out last weekend's first block of games, Uruguay enter the Rugby World Cup chat on Thursday as they face hosts France in Lille in Pool A.
Even with a starting XV featuring 12 changes to the one that inflicted a first-ever pool phase defeat on New Zealand in the tournament opener, France will undoubtedly start as favourites - but they should be wary of a Uruguay side that has come on in leaps and bounds in recent years.
And there's certainly no lack of ambition in the South Americans' ranks. Winger Ignacio Facciolo said this early week: "I want to play and test myself at the highest level. The group goal is to beat Italy and Namibia and qualify for Rugby World Cup 2027. We do not rule out the France and New Zealand games. We are going to play them as equals and we are going to go out and win. Uruguay will never give up a game as a lost cause."
Four years ago, Uruguay beat Fiji 30-27 in an emotion-filled RWC 2019 pool match at the Kamaishi Recovery Memorial Stadium.
Tries from scrum-half Santiago Arata, number eight Manuel Diana and centre Juan Manuel Cat, and the boot of Felipe Berchesi put them 24-12 up at half-time.
Berchesi added two more second-half penalties and Fiji, ranked nine places higher at kick-off, fell to one of the biggest shocks in Rugby World Cup history despite two late tries from Nikola Matawalu.
France have been warned.
Uruguay beat a Fiji side that were nine places above them in World Rugby's rankings four years ago. Their latest Rugby World Cup challenge is steeper still. Fourteen places separate them and France in the rankings.
On paper, then, this match looks like a foregone conclusion, even if Les Bleus are resting most of their key players. But Uruguay have precisely nothing to lose. The bulk of their squad know each other well - they play for the same club, while France is home to several of their better-known stars.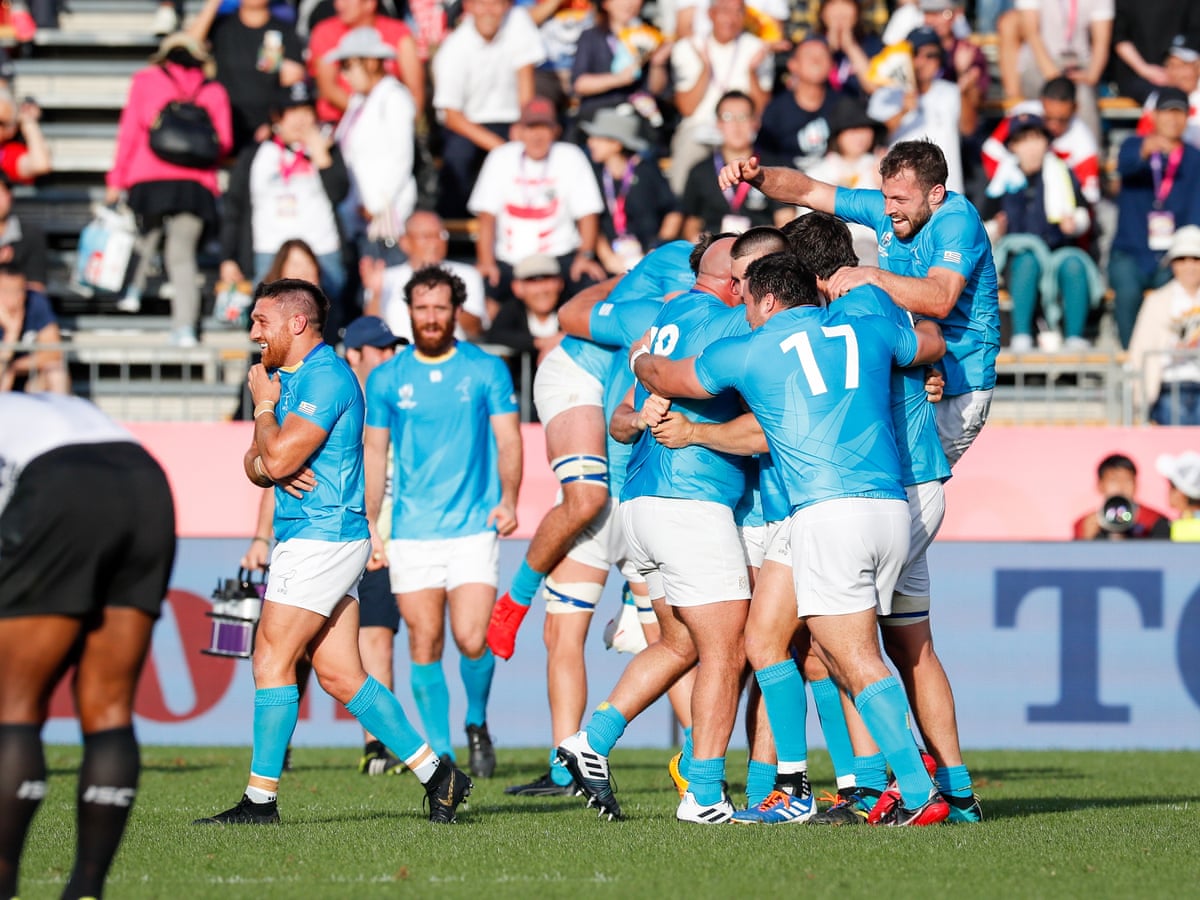 PLAYER HEAD-TO-HEAD
Maxime Lucu v Santiago Arata. With Antoine Dupont rested here, rugby fans can sit back and enjoy the talents of, arguably, the second-best scrum-half in the French Top 14 - Uruguay's Arata.
It's reported in France that Toulouse are interested in signing the Uruguayan from current club Castres Olympique in time for Dupont's expected post-Olympic Games sabbatical. His one-on-one with Les Bleus' more traditional Lucu in Lille will be fascinating.
TEAMS
FRANCE Melvyn Jaminet; Louis Bielle-Biarrey, Arthur Vincent, Yoram Moefana, Gabin Villière; Antoine Hastoy, Maxime Lucu; Jean-Baptiste Gros, Pierre Bourgarit, Dorian Aldegheri; Cameron Woki, Romain Taofifenua; Paul Boudehent, Sekou Macalou, Anthony Jelonch (captain)
Replacements: Peato Mauvaka, Reda Wardi, Sipili Falatea, Bastien Chalureau, Thibaud Flament, François Cros, Baptiste Couilloud, Thomas Ramos
URUGUAY Baltazar Amaya; Bautista Basso, Tomas Inciarte, Andres Vilaseca (captain), Nicolas Freitas; Felipe Etcheverry, Santiago Arata; Mateo Sanguinetti, Guillermo Pujadas, Ignacio Peculo; Felipe Aliaga, Manuel Leindekar; Manuel Ardao, Santiago Civetta, Manuel Diana
Replacements: Facundo Gattas, Matias Benitez, Reinaldo Piussi, Ignacio Dotti, Lucas Bianchi, Carlos Deus, Agustin Ormaechea, Felipe Berchesi