Premiership Round 21 Round-Up & a Taste of Things to Come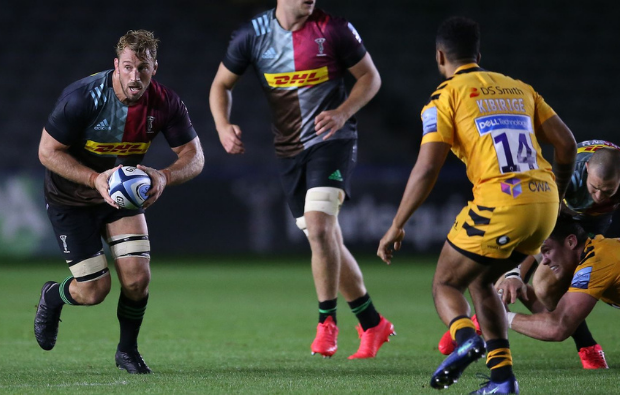 As we head into the 22nd and final round of the 2019-20 Premiership before the semis, we consider the occurrences and possibilities thrown out by Round 21 and the effects of such.
Victories for Bath, Wasps, Sale, Bristol, London Irish and Worcester saw those teams advance their respective causes, some of which are now superfluous while others may still bear fruit as places for the 2020-21 Champions Cup are determined.
Competition for semi-final spots is now fierce. While Exeter, through their herculean efforts this season, are guaranteed a semi-final berth, the same cannot be said for anyone else, which sets Round 22 up as a brutal contest for ascendency.
As things stand, Wasps, Bath and Sale are on track to make the play-offs, however, only two points separate 2nd and 4th spots and Sale are level on overall points with Bristol who are knocking vigorously on the door on the top four.
The Bears left no stone unturned in their Round 21 fixture with Leicester, which the former comprehensively dominated 40-3. Round 22 sees Bristol squaring up to London Irish who face a tough ask against a team who will be sweating determination to bag five points from the game which could, theoretically, see them climb the ladder into 2nd spot.
Sale did what they needed to do against Saints, posting a final score of 34-14 with scrumhalf Faf de Klerk scooping yet another Man-of-the-Match award.
Wasps showed admirable composure to bring themselves back into the game against Harlequins which it looked like they were going to lose. Aided somewhat by a 'Quins red card in the second half, Wasps clawed their way back from a twelve-point deficit to a nine-point victory.
Exeter, having done enough in the competition already to give their top players as rest as the play-offs and Champions Cup final loom, came up short (22-19) against London Irish at Sandy Park.
Worcester, while out of the running as far as the Premiership is concerned, have much to play for still in terms of a place in the Champions Cup. The men in blue posted a great win against Saracens , leaving no uncertainty as to whether they are truly in the hunt for 8th spot overall which would grant them access to the premier European club competition.
Should Worcester somehow manage to shake down the Sharks in Round 22, with 5 points, the coveted 8th position could be theirs.