Reds scare provides 'edge' for Chiefs ahead of semi-final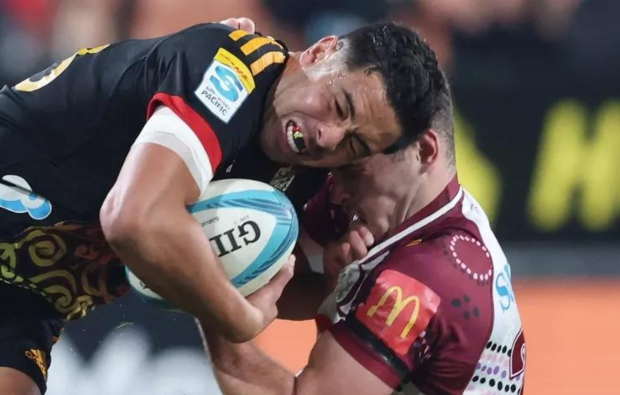 Coming off a tight 29-20 quarterfinal win in Super Rugby Pacific over the Reds on Saturday evening; the Chiefs had the best preparation for their semifinal against the last remaining Australian team, the Brumbies.

It wasn't until the 76th minute, when No8 Pita Gus Sowakula scored a try to allow home fans to breathe easier, that the win was assured.
Coach Clayton McMillan said the Reds produced what the Chiefs expected. For some reason, the Queenslanders seemed to relish playing the Chiefs.
"They're a better team than what the points table has shown. And for whatever reason, when they play us they seem to grow another leg, or just the way they play makes it a real grind."

While admitting to a few more grey hairs as the game ticked down, he said he was proud of the way the Chiefs reacted in the last quarter.

"Where we went down, got direct, we were able to build phase counts, were able to score points when it mattered. And we won the game, and that's all that matters."

The Chiefs fans might have wanted to celebrate a runaway win, but McMillan felt there was more to be learnt from the gameplay.

"If we'd won by 20 points, our week might have looked a bit different…just probably mindset. This result will bring a bit of an edge, and a realness, around finals footy.
"Sometimes, it's not going to be pretty, but you've just got to get the job done.

"For a whole number of reasons, being put under pressure will be really good for us in the run."
Unsurprisingly, the Reds resorted to the kicking game that had been successful when they beat the Chiefs in New Plymouth in the regular season.
"They obviously came with a clear plan. It wasn't like we were losing the kick tennis battle, but we probably just needed to hold onto the ball a little bit more, and then force them to start making some tackles and put them under a little bit of pressure."
Retiring Reds coach and former All-Black World Cup winner Brad Thorn said their goal was to limit the opportunities for the Chiefs' backs to shine. He likened rugby to the decathlon.
"That's a component for me. I'm an ex-league player, but rugby, if it was in the Olympics, it's like the decathlon. The scrum battle, the kicking battle, the lineout battle, defence, attack, whatever, there's all these battles inside that make a great game of rugby, and they were competed well tonight in all areas."
Thorn retired, satisfied that it was a worthy quarterfinal. The Reds' performance made him proud. He offered respect to the Chiefs because they got the required job done.