Rugby World Cup 2023: Seven matches you should get excited about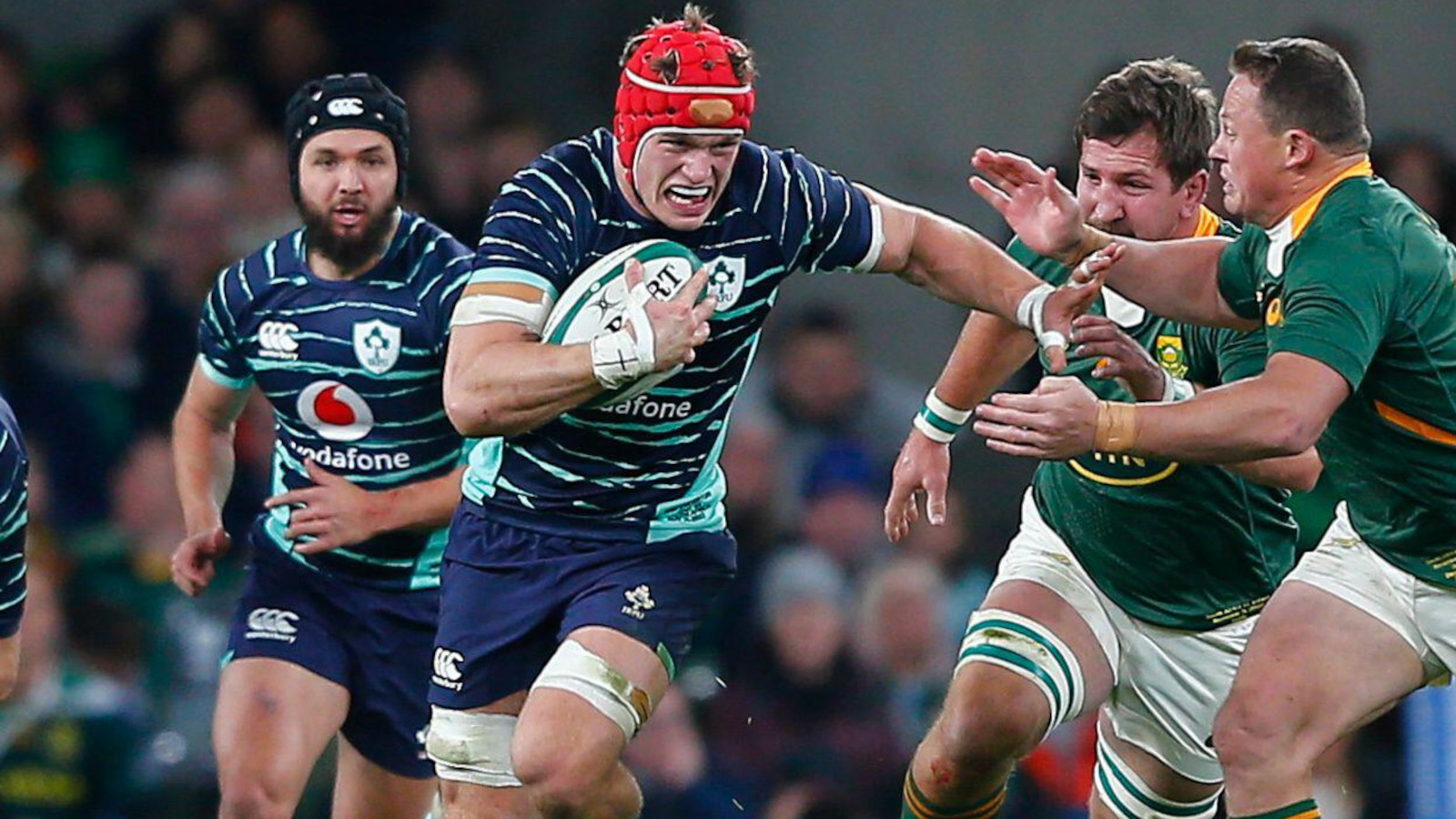 In less than 10 months' time, the wait for Rugby World Cup 2023 will come to an end as France take on New Zealand in an opening match that has all the ingredients to be a classic.
While Les Bleus' encounter with the three-time champions should get the tournament off to the best possible start, it is not the only match in the schedule that has caught our eye.
Last week, Portugal claimed the 20th and final place at France 2023, meaning Os Lobos will play their first Rugby World Cup match in 16 years when they take on Wales in Nice on 16 September, 2023.
That will be only the second time the two European nations have met in a test match, their first meeting ending in a 102-11 win for Wales in Lisbon in 1994.
We select seven pool stage fixtures that could have a huge impact on how the tournament unfolds.
France v New Zealand, Pool A, 8 September, Stade de France
Rugby World Cup 2023 will kick off in style with the hosts taking on the All Blacks in the opening match at the Stade de France. The two teams have a wealth of shared tournament experience having met seven times at Rugby World Cup to date.
The teams' first meeting came in the RWC 1987 final at Eden Park, which New Zealand won 29-9, while the two countries returned to the famous stadium for the showpiece match of RWC 2011, with the All Blacks again emerging victorious, 8-7. But, arguably the most thrilling match between the teams came in the RWC 1999 semi-finals, when Les Bleus overturned a 24-10 deficit to win 43-31 at Twickenham.
The opening match of RWC 2023 will only be the second time the two teams have met during the pool stage. And, with games against Italy, Uruguay and Namibia to come, this fixture will have a huge bearing on who tops Pool A.
England v Japan, Pool D, 17 September, Stade de Nice
England's second Pool D match, and one coach Eddie Jones will no doubt have circled on their schedule, is against Japan in Nice. Jones led the Brave Blossoms to three wins at RWC 2015, including the 'Brighton Miracle' against South Africa, and helped turn the team into a force on the international stage.
That progress has continued under his successor Jamie Joseph, and Japan will be confident they have enough quality to make it out of their pool for the second successive Rugby World Cup. Should England beat Argentina in their France 2023 opener, however, Jones' side will have an opportunity to all but seal their progress, with matches against Samoa and Chile to follow this one.
The nations have met only once at Rugby World Cup, their encounter coming during the pool stage of the inaugural tournament in 1987, when England won 60-7 in Sydney. Their only encounters since then both came at Twickenham and the hosts were victorious again, winning 35-15 in 2018 and 52-13 earlier this month.
South Africa v Ireland, Pool B, 23 September, Stade de France
Defending champions South Africa open their RWC 2023 campaign against Scotland on the opening weekend, and whatever the result in Marseille there will be a lot riding on the Springboks' date with Ireland 13 days later. All three teams will have ambitions extending beyond the pool stage, placing extra importance on the matches between them.
This match at Stade de France will be something of a step into the unknown for both teams as Ireland have never faced South Africa at Rugby World Cup. The Springboks hold the upper hand in the fixture, having won 18 of the 27 tests contested by the sides, although Ireland have won the previous two.
Victory on the outskirts of Paris could give the winners the upper hand in the battle to top Pool B. Ireland, though, will know that their RWC 2023 destiny should still be in their hands regardless of the result against South Africa, given they are due to play Scotland on the final weekend of the pool stage.
Wales v Australia, Pool C, 24 September, Parc OL
Lyon will play host to what has become one of the most common Rugby World Cup fixtures in recent times on the third Sunday of the tournament. Wales and Australia have been drawn in the same pool at four of the last five Rugby World Cups, including France 2023, and faced each other in the bronze final of New Zealand 2011 too.
Australia beat Wales in Cardiff in 2007 and at Twickenham in 2015 on their way to winning the pool, while the Wallabies were also victorious in the RWC 2011 bronze final. Wales ended that run of tournament defeats in Japan, beating Australia at Tokyo Stadium to top Pool D at RWC 2019.
Whoever wins this latest instalment of the rivalry in Lyon will seize the initiative in Pool C, but neither can afford to discount the threat posed by Fiji, Georgia or Portugal. The Fijians have been drawn in the same pool as Australia and Wales in 2007, 2015, 2019 and now 2023 too, and edged Wales to a place in the quarter-finals 15 years ago.
Argentina v Chile, Pool D, 30 September, Stade de la Beaujoire
When Chile secured their historic qualification for Rugby World Cup 2023, and with it their place in Pool D, the attention of the squad and their fans would have been caught by their assignment in Nantes. Los Cóndores will play their first ever Rugby World Cup match, against Japan, in Toulouse on 10 September. Before they arrive at Stade de la Beaujoire at the end of the month, Chile will also have met England and Samoa.
However, it is the meeting with their South American neighbours that will have set pulses racing. Chile have met Argentina on 39 occasions dating back to 1936 and have never tasted victory against Los Pumas. The closest Los Cóndores have come to a win in the fixture was in November 2000, when they were beaten 18-16 in Montevideo.
Will that change on the men's game's biggest stage? Having defeated the odds to make it to their maiden Rugby World Cup, Chile will hope they can shatter more records when they get to France. Argentina, meanwhile, will know that victory in Nantes is imperative if they are to advance to the quarter-finals.
Wales v Georgia, Pool C, 7 October, Stade de la Beaujoire
In five tournament appearances, Georgia are yet to qualify for the quarter-finals. The Lelos have won only five of their 20 Rugby World Cup matches but continue to improve and their hopes of prolonging their campaign beyond the pool stage in France were given a boost by their historic victory against Wales in Cardiff last weekend.
Georgia had lost each of their three previous matches against Wales prior to the encounter at Principality Stadium. That run included a 43-14 defeat at RWC 2019, the teams' only tournament meeting to date. A late Luka Matkava penalty in Cardiff changed all of that, handing the Lelos a deserved 13-12 victory and giving the team belief they could achieve something special in France.
The teams are next scheduled to meet in their final Pool C match in Nantes, and both will hope that they arrive at Stade de la Beaujoire in contention for a place in the quarter-finals. Although Wales would remain favourites to win the match, events in Cardiff will be fresh in the minds of those players involved.
Japan v Argentina, Pool D, 8 October, Stade de la Beaujoire
As Japan became the first Asian side to reach the Rugby World Cup quarter-finals at RWC 2019, Argentina watched on as England and France progressed from Pool C. Hosts Japan booked their place in the last eight with an impressive win over Scotland in their final Pool A match, but neither the Brave Blossoms nor Los Pumas will want to leave it that late in France.
However, with England, Samoa and Chile also in Pool D at RWC 2023, it seems logical that qualification will still be on the line for at least one of the teams when they meet in Nantes on the final day of pool play.
Argentina and Japan have only met once at Rugby World Cup to date. Former Los Pumas coach Mario Ladesma lined up at hooker as tries from Agustin Pichot and Diego Albanese helped give the Argentines a 33-12 win in Cardiff during RWC 1999. Victory helped Los Pumas qualify for the quarter-final play-offs, in which they beat Ireland 28-24 in Lens.