This weekend will be the final opportunity for sides to claim a playoff spot.
Before we dive into the permutations of the final round of action here is how the quarter-finals will play out if the standings stay as is:
The Crusaders and Sunwolves are the only two sides in the competition that will not move regardless of their results this weekend. The Crusaders will finish the regular season at the summit of the Super Rugby log while the Sunwolves are rooted to the foot of the table.
The Waratahs will need a minimum of two points to secure a home quarter-final and a second place finish. The Tahs face the Brumbies who have a slim but mathematical chance of making the playoffs if they claim a winning bonus point and the Rebels and Sharks lose without claiming a single log point.
The Chiefs and Hurricanes will face off in what will be a preview of the quarter-final. The two sides look set to finish 5th and 4th respectively with Highlanders needing a massive win over the Rebels and Chiefs to lose without a single log point to finish 5th. The Chiefs also have a mountain to climb to displace the Hurricanes in 4th place as they will have to claim a bonus point win and beat the Hurricanes by 46 points.
The Highlanders have secured a playoff spot but could finish as low as 8th if they lose to the Rebels. The Jaguares and Rebels will be looking to secure a playoff spot with the Argentine side facing off against the Sharks in Durban who will know their fate when they host the Jaguares in the final match of the weekend.
The Sharks and Brumbies are the only two sides outside of the current top 8 that could mathematically make the quarter-finals if results go their way.
The most intriguing battle will be the one for 2nd place, The Waratahs could end the race for second place before the Lions even kick off their match against the Bulls. The Jaguares will also know what is required of them to finish where, by the time their match kicks off.
Overall standings heading into the final round of action: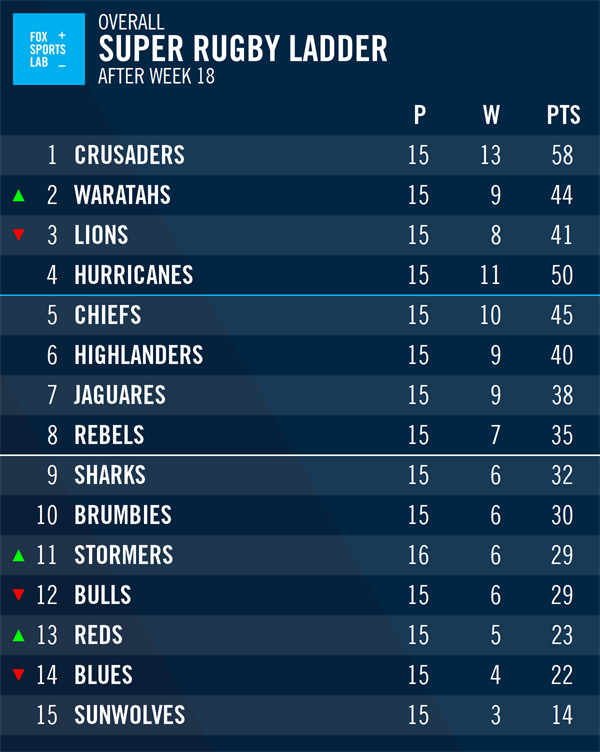 Image via FoxSportsLab