Super Rugby Preview - Round 15
With four rounds remaining in the regular season in this year's Super Rugby competition, the race to the quarterfinals cannot be any closer as there are still eight teams realistically fighting for three playoff spots. We have many teams separated by just one point on the log and this weekend could see a slight shift on the table.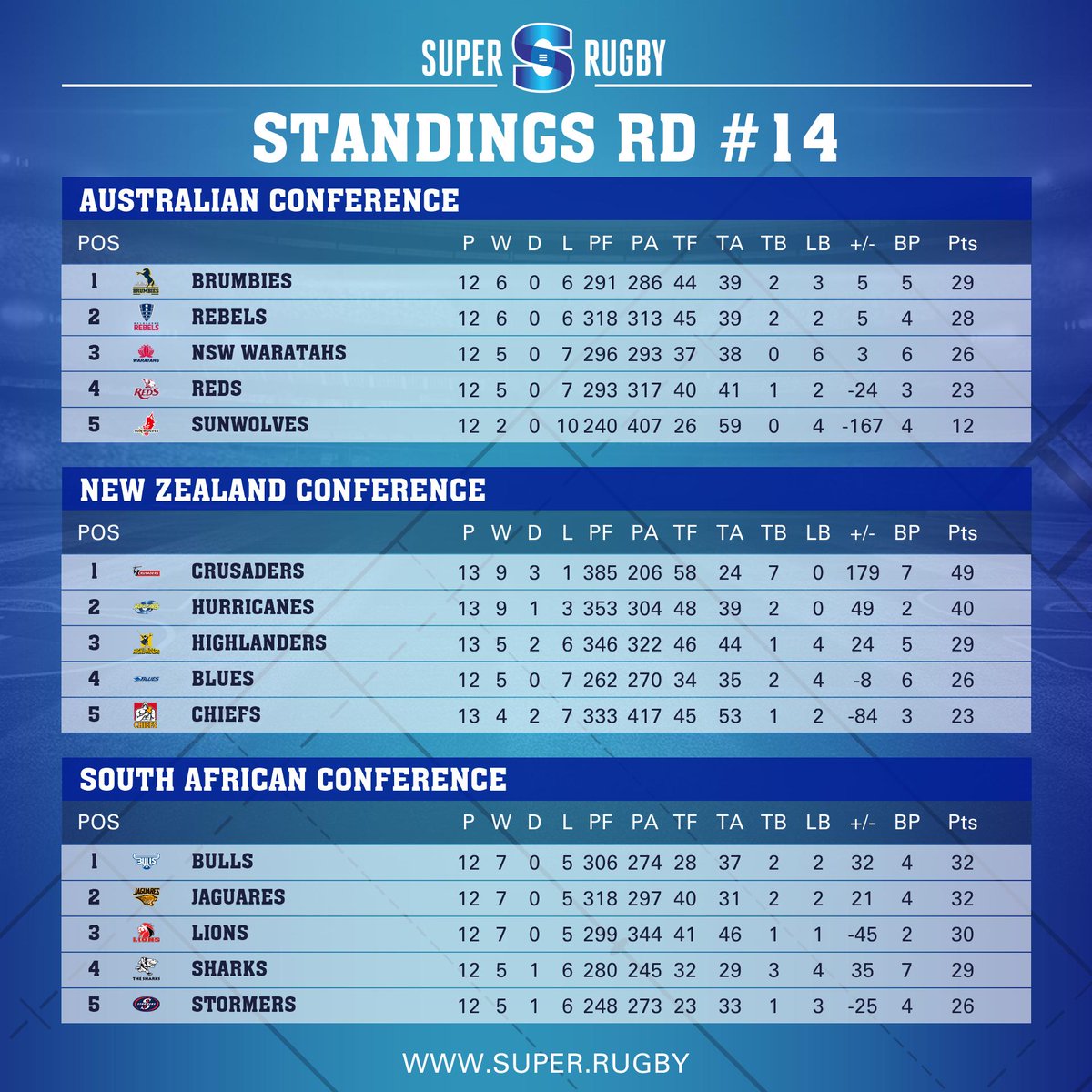 The South African conference is surprisingly leading the way with four teams in the race to finals, the hotly contested division is still very much up for grabs and sees the Bulls, Jaguares, Sharks and Lions all in wildcard spots heading into gameweek 15.
So as things stand the New Zealand conference has three teams placed in the top eight. The Crusaders are leading the overall table with 49 points, while are fourth with 40 and the Highlanders are eighth with 29.
The Australian section has only one team in the playoff berths at the moment at that is the ACT Brumbies. The Aussies conference is also a tightly contested one as the Rebels are just one point off top spot on their table.
Weekend Fixtures:
FIXTURES RD #15
Seven-match round including: RSA #1 @BlueBullsRugby v Oz #1 @BrumbiesRugby ; RSA #4 @TheSharksZA v #3 @LionsRugbyCo ; and NZ derby @crusadersrugby v @BluesRugbyTeam ...
Match Centre: https://t.co/1clbgDwp03 pic.twitter.com/HHwu7Vrldx

— Super Rugby (@SuperRugby) May 23, 2019
Australian Conference:
The Aussies table is expected to go down right to the final round, as first and fourth place is separated by only by six points. The Brumbies and the Waratahs are at home this weekend against the Bulls and the Jaguares, while Reds and the Rebels are away to the Chiefs and Sunwolves.
New Zealand Conference:
The NZ table is just about wrapped up as the Crusaders, who are top by nine points, and the Hurricanes are sure to make it through the playoffs. The Highlanders, who are currently in the last wildcard spot, will have to keep a close eye on the Blues who are only three points off them. This weekend sees the Chiefs and the Saders at home against the Reds and Blues, while the Highlanders are away to the Stormers.
South African Conference:
This is probably the toughest and tightest conference in years and that's solely due to the Jaguares have improved so much. All five teams are still able to lift the conference title this season and can all make the playoffs if results go all their way. The Sharks face the Lions this weekend, while Stormers host the Landers at Newlands. The Bulls and Jaguares are away against the Brumbies and Tahs respectfully.