Mitre 10 Cup Round 4 Preview
If the Wellington vs Counties Manukau game is anything to go by, Mitre 1 Cup Round four brings plenty of mouth-watering battles, with unbeaten Tasman and Taranaki facing off and winless Southland and Canterbury going head-to-head.
Otago v Manawatu (Ranfurly Shield match)
Friday 30 August
Played: 43
Won: Otago 23, Manawatu 14
Last match: Otago 50 Manawatu 17 in Palmerston North 1/9/2018
The Ranfurly Shield goes on the line again in Dunedin, this time against Manawatu who were trounced by Tasman last weekend. Manawatu haven't held the Log 'o' Wood since 1978.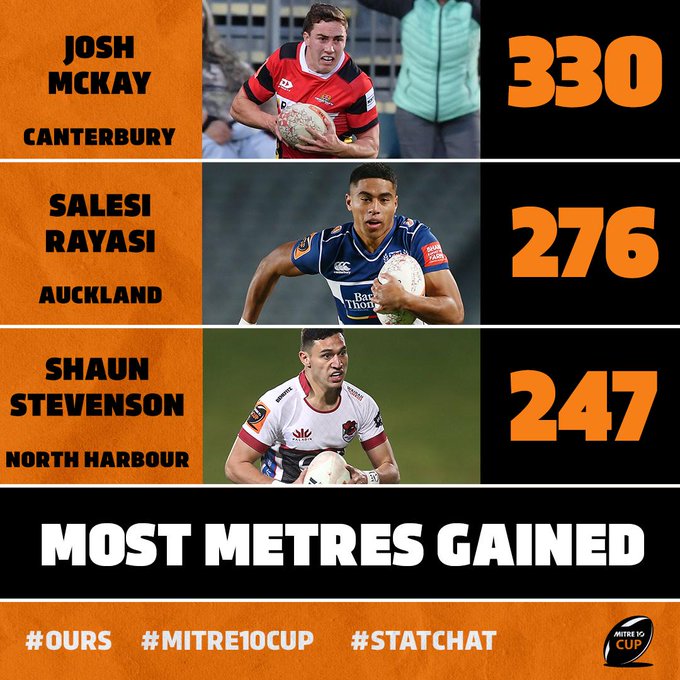 Canterbury v Southland
Saturday 31 August
Played: 104
Won: Canterbury 73, Southland 28, 3 drawn
Last match: Canterbury 78 Southland 20 at Addington on 8/9/2017


Both sides are still searching for their first win of the Mitre 10 Cup season, and there is no better opportunity for the Southland Stags to claim their first victory since 2016. It's also the first Double Header of the year, with Canterbury taking on Wellington in the opening Farah Palmer Cup match at Orangetheory Stadium.
Northland v Hawke's Bay
Saturday 31 August
Played: 36
Won: Northland 20, Hawkes Bay 15, drawn 1
Last match: Hawke's Bay 55 Northland 41 at Napier on 26/9/2018
Referee: Mike Winter

Northland have only won the one game so far this season, defeating Southland in their opening game. Hawke's Bay, however, are on a bit of a roll.
They sit just behind Championship leaders Taranaki, having drawn one game and won two. It's Fill The Bank - Club Day as well, so make sure to wear your club colours.
Waikato v Auckland
Saturday 31 August
Played: 143
Won: Waikato 41, Auckland 97, drawn 5
Last match: Auckland 35, Waikato 17 at Auckland on 30/8/2018
Referee: Richard Kelly
This will be a great battle on Saturday night. Both sides have shown some brilliance so far in 2019.
Auckland ground out an ugly win over Bay of Plenty last weekend, while Waikato held off a late fightback from Counties Manukau in Pukekohe.
North Harbour v Bay of Plenty
Sunday 1 September
Played: 31
Won: North Harbour 16, Bay of Plenty 15
Last match: North Harbour 32 Bay of Plenty 20 at Albany on 16/9/2018
Referee: Nick Hogan

It's always a close encounter when Harbour and Bay of Plenty match up. Bay of Plenty will be disappointed with their loss to Auckland last weekend and despite North Harbour beating Southland in Invercargill on Sunday, they probably feel they could have been better so will be out to improve on Sunday.
Taranaki v Tasman
Sunday 1 September
Played: 17
Won: Taranaki 10, Tasman 7
Last match: Tasman 53 Taranaki 17 at Nelson on 14/9/2018
Referee: Angus Mabey

Both sides sit at the top of their respective tables, with Taranaki leading the Championship and Tasman unbeaten at the top of the Premiership table. This has got to be the game of the round. The two form sides going head-to-head. Don't miss it.