European Champions Cup Team of the Year
1. Cian Healy – Leinster
Healy was the top scoring prop in the competition with 3. The emergence of Jack McGrath as a world-class loosehead seems to have reinvigorated the former Belvedere man. He has come back from injury fitter and more dynamic than ever, keeping his teammate out of the starting XV, with immense performances week after week. His work at the scrum cannot be understated as well, up against bigger Saracens and Racing packs he did more than hold his own.
2. Camille Chat – Racing 92
The hooker position has changed in recent years into a hybrid of the roles of both the front-row and the back-row. Chat is just about as close as a hooker can come to being a back-row. Powerful carrying and effective pilfering have been an asset to Racing all season. He was one of the best players on the field as Racing overcame Clermont in a tight-quarter final game. He made 73 tackles in this year's competition, which averages out at one every 5 minutes. Not bad for a front-rower.
3. Tadhg Furlong – Leinster
The common consensus in world rugby this season, is that the Furlong is the best tighthead around. His consistent performances for both Leinster and Ireland have been giving opposing looseheads nightmares all year. Not only has he been a rock in the Leinster scrum, he has also done powerful work around the field, which has made him stand out over the rest of Europe's number 3s. One of his most amazing stats is that he only missed 1 tackle in the entire competition. Some say that the tighthead prop is the most important position on the field, and that well could be true for this great Leinster team.
4. James Ryan – Leinster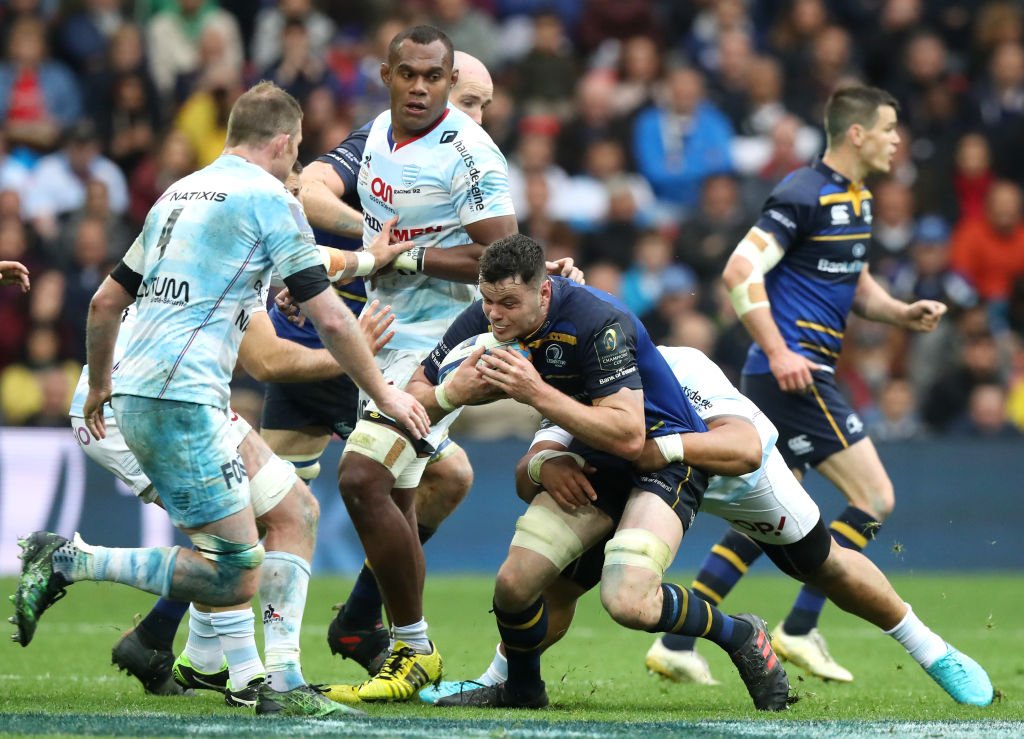 The youngster is undoubtably one of the biggest prospects in world rugby. His amazing record of not losing a professional game continued today, as he lifted his 2nd senior trophy, after the Six Nations. He was also awarded MOTM for another of his superhuman performances. He plays with great attrition in every action. Making aggressive tackles and carrying with intent. His ball skills are also fantastic, for a 2nd row, and have led to a number of tries for the men in blue. One that springs to mind is his lovely pass inside to Leavy against Saracens, that put the openside through for a wonderful score. His dynamic carrying paves the way for many of Leinster's tries, particularly against Scarlets in the semi-final.
5. Tadhg Beirne – Scarlets
Scarlets will be extremely disappointed to see the back of their Irish 2nd row, as he heads back to Munster, with hopes of playing for his country next season. He has been a revelation for the Welsh region, carrying like a number 8, turning over ball like a 7 and operating like a true 2nd row in the lineout. He has the most turnovers of anyone in the Champions Cup by some margin, with 18. He also finds himself towards the top of the tackles made table, with 94. He managed to get over for 3 tries during his 8 games, including one to remember against his former club Leinster, in the semi-final.
6. Scott Fardy – Leinster
The Aussie blindside is very well thought of in the Leinster setup, which is shown by their reluctance to give up his consistency for the brilliance of James Lowe. He is one of their primary lineout options, which says something about his abilities there, when they have the lengthy Devin Toner within their ranks. He has contributed 3 tries to his side, 1 of which he scored during his MOTM display in the semi-final. He has been a great addition to Leinster's fluid backline play as well, often finding himself in the link position for the famous Sexton-loop.
7. Dan Leavy - Leinster
Another of Leinster's youngsters that has had a real breakthrough season for the Dublin-based side. He entered the Leinster starting XV after injuries to Sean O'Brien and Josh van der Flier but his MOTM performance in the quarter-final put all questions of where he is in the pecking-order to bed. He managed to get over for a wonderful 5-pointer on that day when he ran the ball in from 30m out. His abilities to turnover possession, were also been a great asset to the Champions. He averaged a tackle and carry every 6 minutes in this competition, showing just how active he is around the field.
8. Leone Nakarawa – Racing 92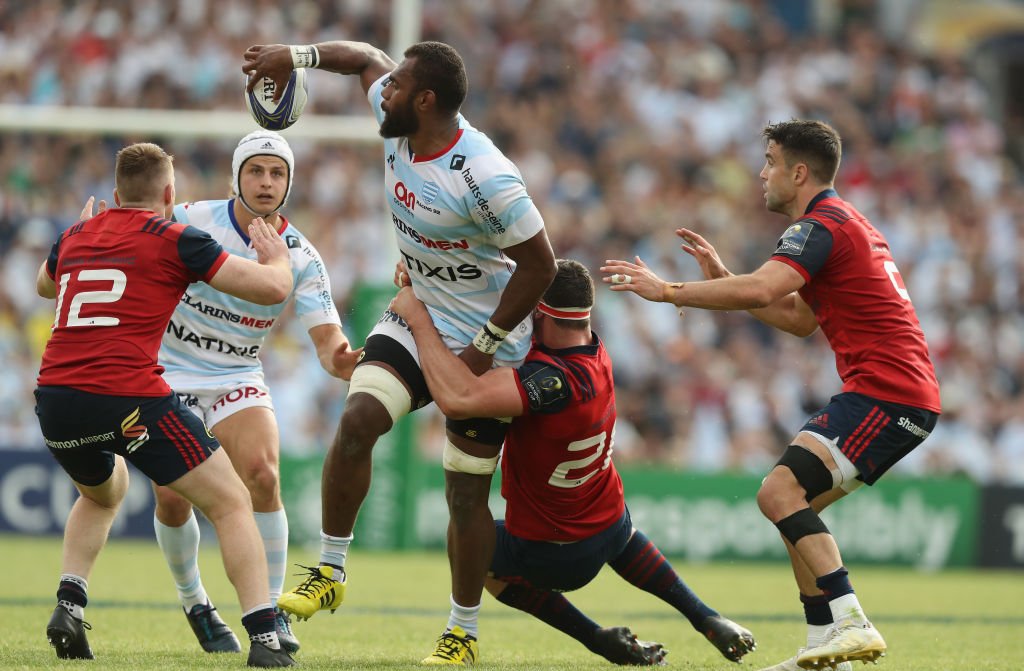 The 2018 European Player of the Year was unstoppable in the competition. He caused defences immense problems in every game, having the most offloads of any player by a country mile, with 24. His ability to get the arms free, every time he goes into contact, created a number of overlaps which paid dividends for his teammates throughout their run. The Olympic gold medallist was one of the only forwards in the top 10 of the try-scoring list. Showing that he is not a one-trick pony. His abilities around the field are absolutely unbelievable and Racing will be trying to hold onto him for another few years to come.
9. Conor Murray – Munster
Munster had a hell of a season in Europe, and their maverick scrum-half was central to that. His heroics in the quarter-final against Toulon were the stuff of dreams. His immense knowledge of the laws of rugby enabled him to score a simple try that completely changed the complexion of a game that was getting away from the men in red. He bagged a couple of tries during the tournament, along with a penalty goal against Racing in the semi-final. He had 5 try assists, showing just how important he is to this Munster side. He will hope that Munster can go one better next year, after their poor showing against Racing in the semi-final.
10. Johnny Sexton – Leinster
Leinster most-definitely could not have had their impeccable form in Europe in recent years were it not for their talismanic out-half. He is one of the few players that remain in the squad from that first win in 2009. He always seems to rise to the occasion, driving his side around the field, with world-class distribution and clever kicks that put the opposition under pressure. He managed to get over the try-line 4 times during Leinster's competition-winning run. Those scores often came at pivotal moments in the game, as a result of the number 10 running support-lines, when many other out-halves would be realigning and thinking about the next play. Despite a couple of blips, his kicking percentage remained quite high, at 83%. Due to Leinster running away with a number of their Champions Cup games that stat may not seem relevant to many, but it was most definitely relevant for Leinster today, as his 9 points kept them in it till the end.
11. Nemani Nadolo - Montpellier
Although Montpellier failed to make it out of the group stages we couldn't resist adding in Fijian winger Nemani Nadolo to our Champions Cup team of the year. Nadolo scored a whopping 6 trys in 6 games in the pool stages which included an impressive double against now Champions Leinster. Nadolo managed to have the most meters gained (553), the most clean breaks (16) and the most defenders beaten (38). His stats are incredible and he is a worthy addition to the Champions Cup team of the year.
12. Isa Nacewa - Leinster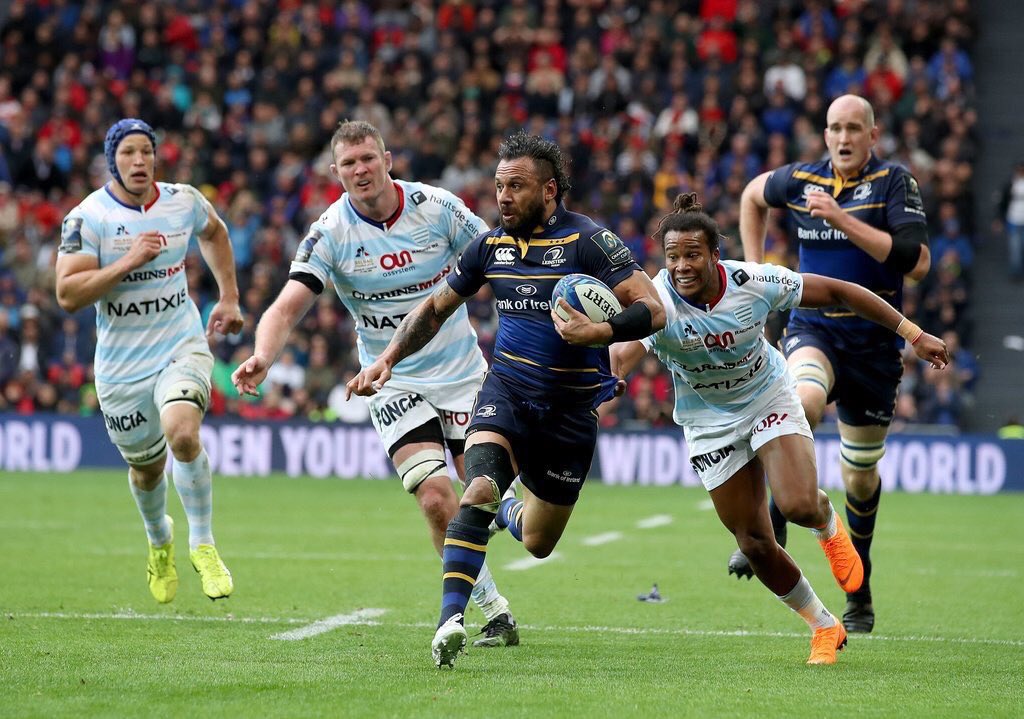 The veteran will now finally retire a happy man, with yet another European medal in his pocket. He should be nicknamed Mr. Dependable, as could play in any position in this Leinster backline. He filled the 12 shirt in the absence of both Ringrose and Henshaw, and did so expertly. He acted as a 2nd playmaker, which was a very useful asset to Johnny Sexton. His performances against Saracens and Scarlets were the stuff of legend, and what a way to round off an impeccable career, with the winning kick in the European final.
13. Virimi Vakatawa - Racing 92
Didn't have the greatest final but throughout the tournament he was outstanding for Racing. He was electric throughout the tournament as he interchanged from winger to outside centre with ease. Was crucial for Racing in their impressive semi final win and will hope to continue his form into the remaining stages of the domestic season.
14. Teddy Thomas – Racing 92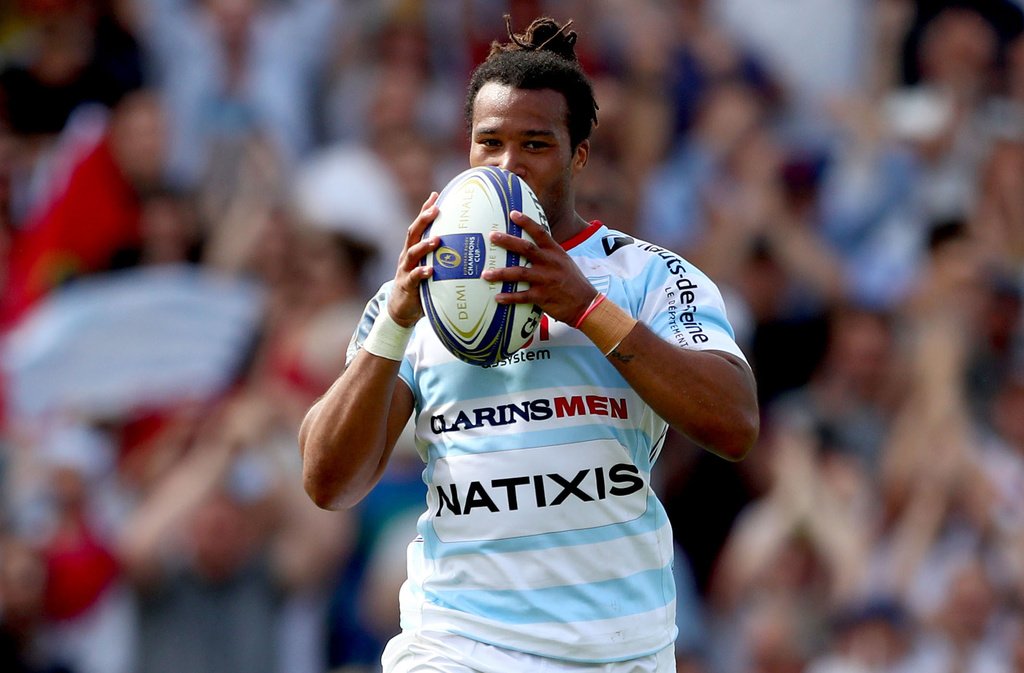 The Frenchman's footwork in space is a joy to watch. He is almost the perfect winger, with his intelligent running lines, leading to try after try for the Paris-based side. His performance in the semi-final was out of this world, as he ran the Munster-defence ragged in the opening 20 minutes. He could have had a first-half hat-trick only for his generosity to his skipper, as he popped the ball to Machenaud over the line for the scrum-half to score. He is 4th in the competition in terms of defenders beating, with 22, showing just how dangerous he has been with ball in hand.
15. Rob Kearney – Leinster
It may seem as though this XV is a little lopsided in terms of selection but Leinster were just that much better than any other side this season that we couldn't leave them out. Their veteran fullback has silenced his critics as well. He was as solid as ever at the back but seemed to rediscover the attacking-prowess that made him so dangerous in the past and won him a European player of the year award. His form in the knockout stages has been exceptional and provided his wingers with ample opportunities to stand flatter to the line and attack the ball, safe in the knowledge that he was behind to clean up.