How things stand after Round 3 of Super Rugby Aotearoa
Round 3 of Super Rugby Aotearoa saw the Blues hold on tightly to their position on top of the log with a narrow victory (27-24) against a vibrant Highlanders outfit.
Will Jordan was in fine fine for the Crudaders as he crossed the line twice to give his team victory over the Chiefs tricky wet conditions in Christchurch.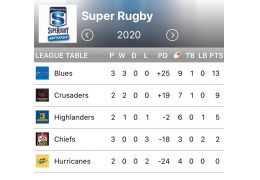 The Crusaders, Highlanders and Hurricanes each have a game in hand after three rounds.
The 'Canes have had a tough tournament so far and are still on the hunt for their first victory. While the Blues have played fantastic rugby so far in the competition, the Highlanders gave them something of a scare on Saturday, highlighting how closely contested this competition really is. I addition to this, the Crusaders are displaying their usual prowess and are hot on the heels of the men from Aukland.
Fans will look forward to an interesting clash in round 4 as the Highlanders will enjoy home-ground advantage and look to carry on from where they left off against the Blues and possibly sneak a victory over the galloping Crusaders.
The Chiefs will fancy their chances on Sunday in Waikato against the struggling 'Canes, but it can only be a matter of time before the latter bounce back with the flair they have exhibited in the past.
While the Blues will enjoy a well-deserved bye this weekend, there is still much to look forward to in Round 4 of Super Rugby Aotearoa.