Joe Marler could face a lengthy ban after fondling Alun Wyn Jones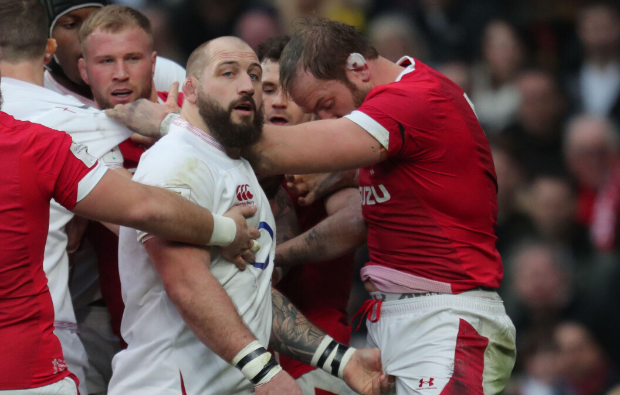 England loosehead prop Joe Marler could face a five month ban for his actions on Alun Wyn Jones in Saturday's Six Nations win over Wales.
The England prop was caught on camera fondling the Wales captain and lock with his actions likely to see him sidelined with a lengthy suspension.
The incident wasn't spotted by referee Ben O'Keefe, occurred during a fractious and frenetic opening at Twickenham.
According to World Rugby law 9.27: "a player must not do anything that is against the spirit of good sportsmanship".
A low-end suspension for Marler could see him suspended for 12 weeks with the mid-range at 18 weeks and a top-end suspension would see him sidelined for 24+ weeks. The limit for acts including grabbing, twisting or squeezing genitals is 208 weeks - which is highly unlikely.
With Marler not having the cleanest disciplinary record he could face at least 12 weeks on the sidelines with no reduction to his suspension.
ITV talked about the incident at half-time and Welsh pundit Gareth Thomas - who came out publicly in 2009 - had his say on Marler's antics. Thomas - a former Wales captain - said: "It would've never have happened in my day and I'm really upset about that - because if it had I would have never retired!"
Gareth Thomas certainly saw the funnier side of Joe Marler's moment with Alun Wyn Jones😂 pic.twitter.com/SAAhxvVjiZ

— Ultimate Rugby (@ultimaterugby) March 7, 2020